MRP ()
Regular price
₹ 102.68
Sale price
₹ 92.86
Unit price
per
Sale
Sold out
Therapeutic Uses (Benefits)

View full details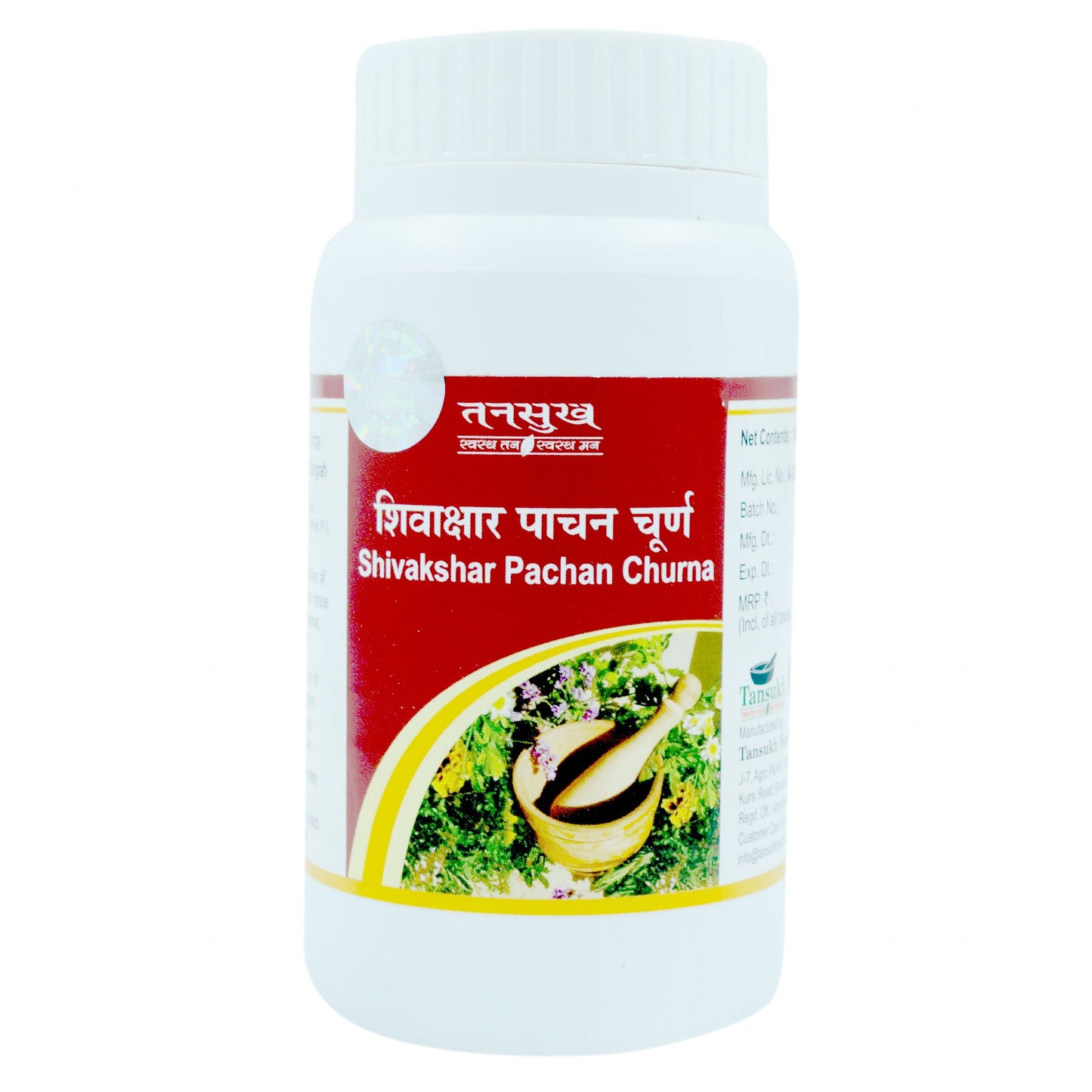 Shivakshar Pachan Churna (शिवाक्षार पाचन चूर्ण) is an Ayurvedic remedy that is made from a blend of natural and organic ingredients. This churna is also known as shivakshar churna and is used to aid in the digestion of food. It is a safe and effective solution for those who suffer from digestive problems.
Benefits / शिवाक्षार चूर्ण के फायदे
Shivakshar Pachan Churna has numerous benefits, including:
Improving digestion
Reducing bloating and flatulence
Relieving constipation
Stimulating the appetite
Treating acid reflux and other digestive disorders
Promoting overall health and wellbeing
Ingredients:
Reference - Ayurvedic Medicine - Ayurved Sar Sangrah
Composition :
Each 10g powder contain : Hingwashtak churna ; Harad chhoti (Terminalia chebula)(Fr.),Sarjji kshaar each 3.33g
Storage:
Shivakshar Churna should be stored in a cool and dry place, away from direct sunlight. It is recommended to keep it in an airtight container to prevent moisture from entering.
Dosage:
The recommended dosage of Shivakshar Pachan Churna is one teaspoon (approximately 3 grams) twice a day, preferably after meals. It can be taken with warm water or milk.
Shelf Life:
The shelf life of Shivachar Pachan Churna is 24 months from the date of manufacture.
Safety Information:
Shivakshar Pachan Churna is a natural and safe Ayurvedic remedy. However, it is recommended to consult a physician before starting this or any other supplement, especially if you are pregnant, nursing, or have any underlying medical conditions. Keep out of reach of children.
Where you can buy
Shivakshar Pachan Churna (शिवाक्षार पाचन चूर्ण) Price is quite reasonable. You can purchase Shivachar Pachan Churna online here. The product is also available on retail sites like Amazon, Flipkart and 1mg. If you want to buy it over the counter, you should visit your nearest Ayurvedic store. All our products are safe and 100% original.