MRP ()
Regular price
₹ 80.36
Sale price
₹ 80.36
Unit price
per
Sale
Sold out
Therapeutic Uses (Benefits)

View full details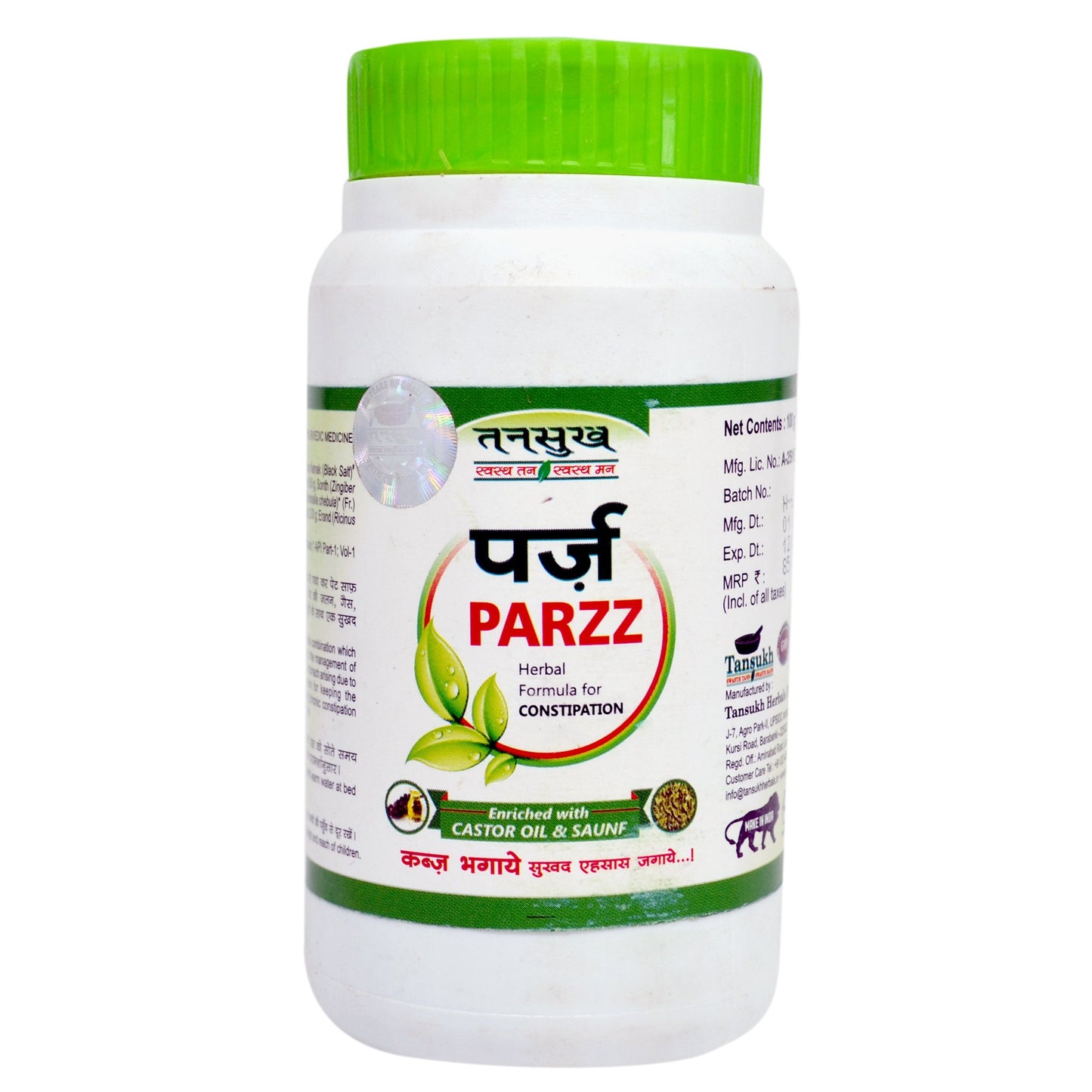 Welcome to Tansukh Herbals, where we bring you an effective Ayurvedic solution for constipation - Parzz. Our carefully crafted herbal formulation offers natural relief from digestive discomfort, promoting regular bowel movements and overall gastrointestinal health.
Product Information:
Parzz is a renowned Ayurvedic medicine trusted for years to address constipation-related issues.

It is formulated using a blend of potent herbal ingredients known for their digestive properties.

This Ayurvedic remedy is designed to gently and effectively alleviate constipation, providing relief without harsh side effects.
Benefits:
Relieves constipation and promotes regular bowel movements.

Supports healthy digestion and improves gastrointestinal health.

Helps in reducing bloating and discomfort associated with constipation.

Nourishes and tones the digestive system, aiding overall well-being.
Ingredients Used:
Tansukh Parzz is made from a combination of traditional Ayurvedic herbs carefully selected for their digestive benefits. The key ingredients include
Composition: Each 5g contains Kala Namak (Black Salt)# 0.25g; Saunf (Foeniculum Vulgare)*(Fr.) 0.50g, Sonth (Zingiber officinale)*(Rz.)0.50g; Chhoti Harad (Terminalia chebula)*(Fr.)1.75g; Sanay (Cassia angustifolia)*(Leaf)2.00g; Erand(Ricinus communis)*(Ol.)q.s; 
#- Bhav Prakash;*-API Part-1; Vol-1,
known for their natural laxative, carminative, and digestive properties.
Storage:
Store Parzz in a cool, dry place away from direct sunlight.

Please keep it away from children to ensure safety and efficacy.
Dosage:
If directed by a physician or Ayurveda, take 5-10 grams before bedtime with lukewarm or warm water.
Shelf Life: 
Tansukh Parzz has a shelf life of 24 Months. Please check the packaging for the specific manufacturing and expiration dates.
Safety Information:
This product uses natural ingredients but may only be suitable for some.

Parzz should not be used by pregnant or nursing women or individuals with medical conditions or prescription medication.

Please read the product label and follow the recommended dosage instructions.
Where can you buy it:
Parzz (पर्ज) price is quite reasonable. You can purchase Parzz (पर्ज) online here. The product is available on retail sites like Amazon, Flipkart and 1mg. It would help if you visited your nearest Ayurvedic store to buy it over the counter.


Amazon , 
Flipkart , 
TATA 1M