MRP ()
Regular price
₹ 107.14
Sale price
₹ 129.46
Unit price
per
Sale
Sold out
Therapeutic Uses (Benefits)

View full details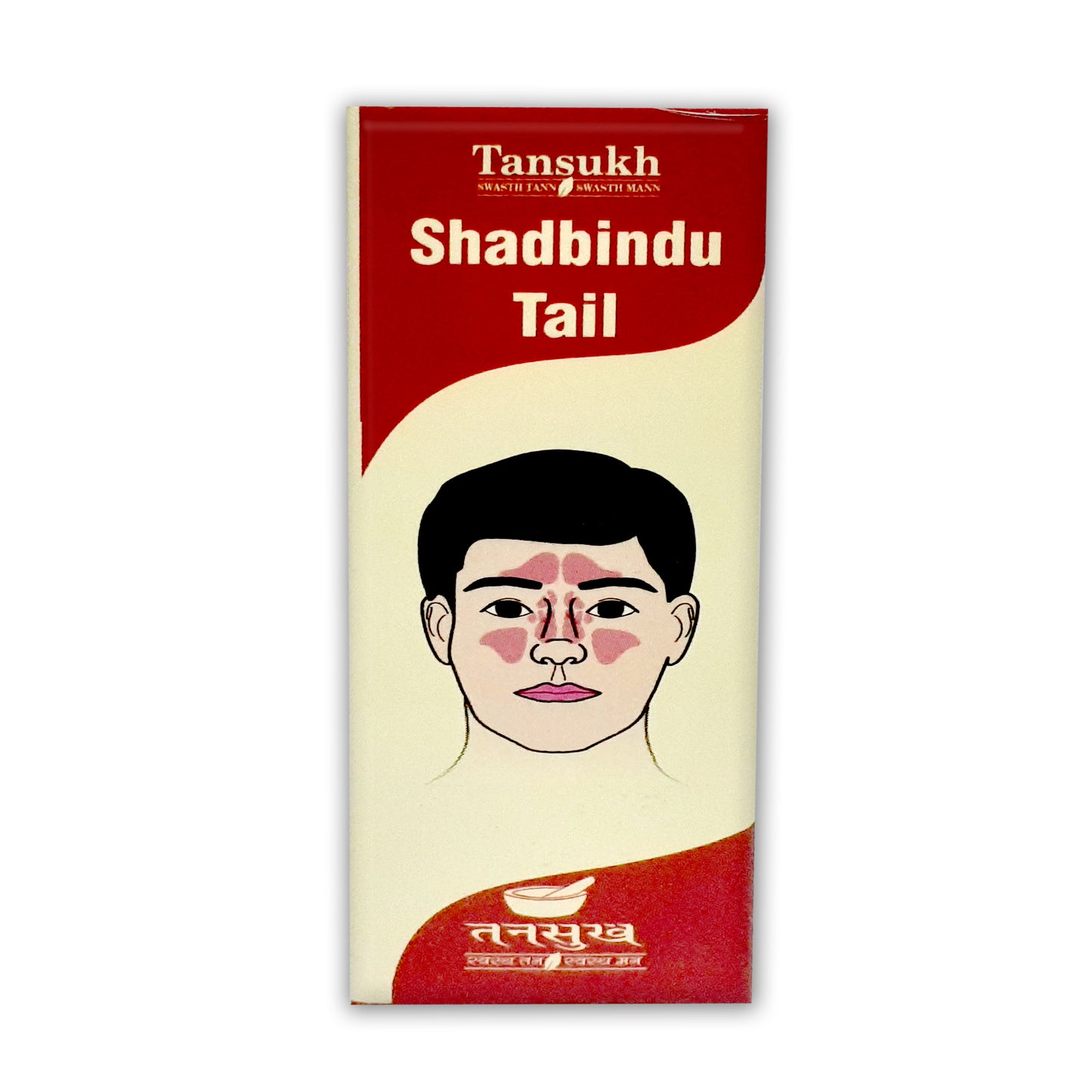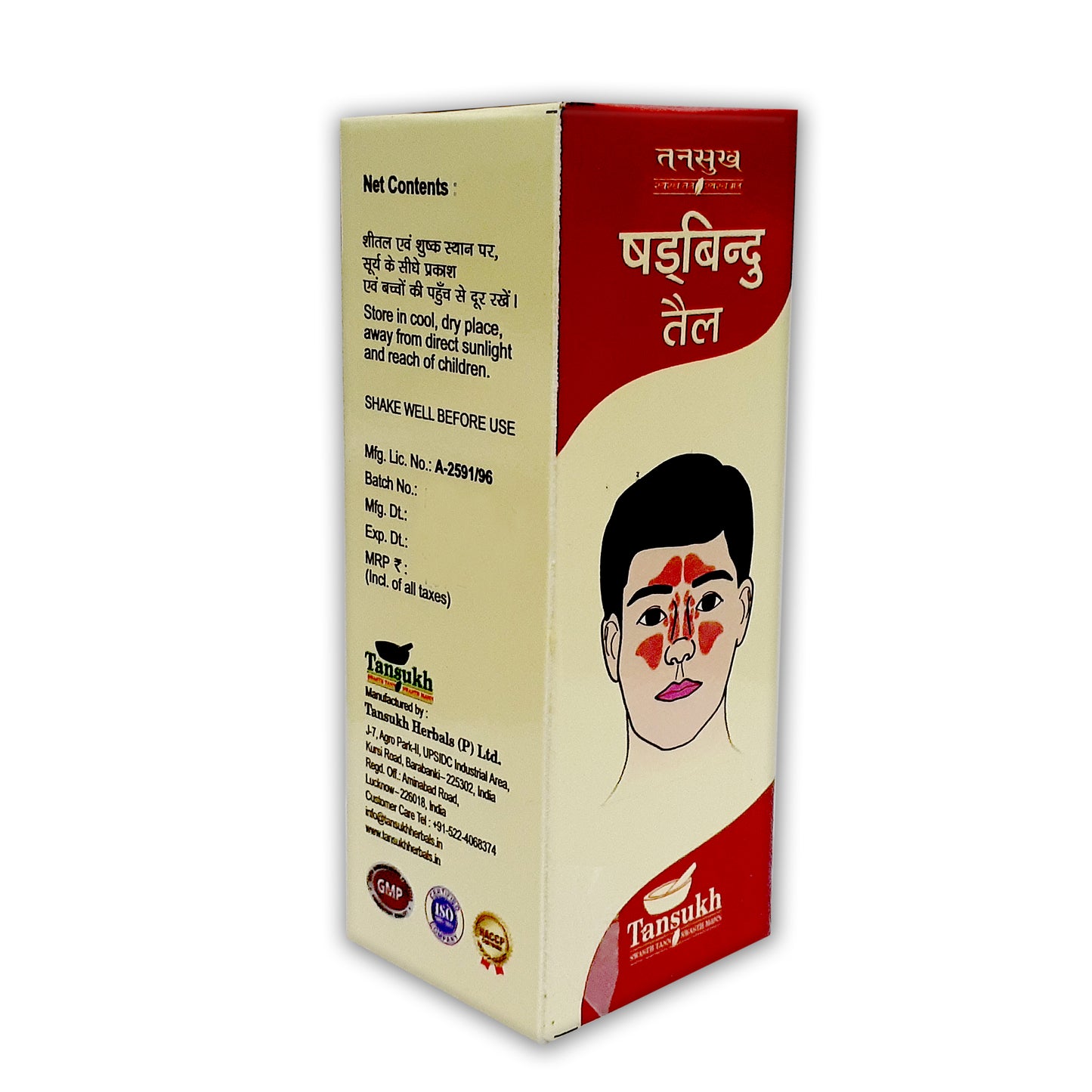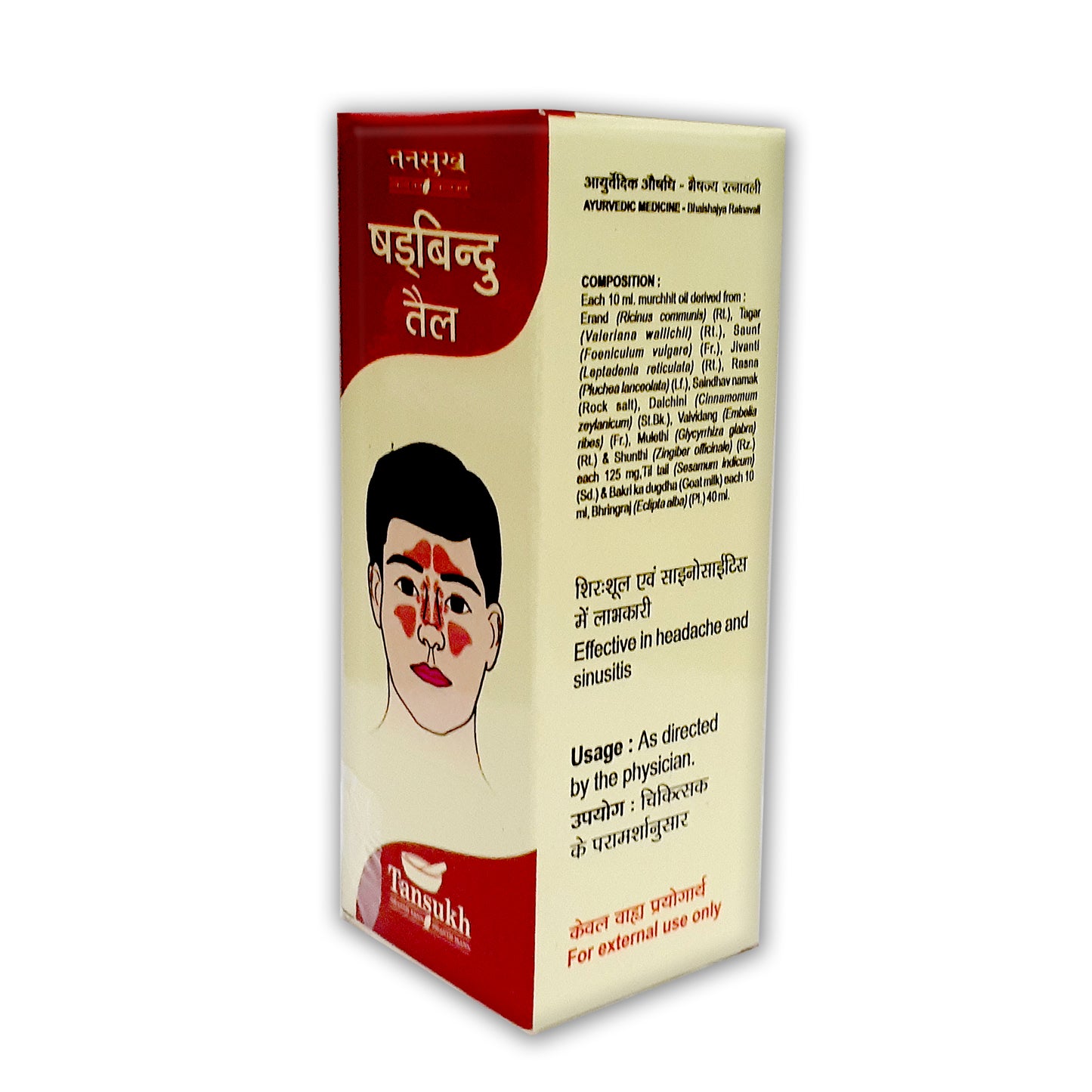 Tansukh Shadbindu Tail (Oil) is a popular Ayurvedic formulation known for its effectiveness in relieving headaches and sinusitis. This oil is carefully crafted using a unique blend of natural ingredients, following traditional Ayurvedic principles. It provides soothing relief and helps promote overall well-being.
Benefits:
Relieves headaches:

 

Shadbindu Tail is formulated to provide quick and effective relief from various headaches, including tension headaches and migraines.
Alleviates sinusitis:

 

The oil's potent blend of ingredients helps open up blocked nasal passages, reduce inflammation, and relieve symptoms associated with sinusitis.
Enhances mental clarity:

 

Regular use of Shadbindu Tail can help improve concentration, focus, and mental clarity, allowing you to be productive all day.
Nourishing the senses:

 

This Ayurvedic oil nourishes and soothes the senses, promoting relaxation and overall well-being.
Ingredients used:
Composition: Each 10ml. much it oil is derived from:
Erand (Ricinus communis)(Rt.), Tagar (Valeriana wallichii)(Rt.),Saunf (Foeniculum vulgare)(Fr.), Jivanti (Leptadenia reticulata)(Rt.), Rasna (Pluchea lanceolata)(Lf.), Saindhav namak (Rock salt), Dalchini (Cinnamomum zeylanicum)(St.Bk.), Vaividang (Embelia ribes)(Fr.), Mulethi (Glycyrrhiza glabra)(Rt.) & Shunthi (Zingiber officinale)(Rz.) each 125 mg, Til tail (Sesamum indicum)(Sd.) & Bakri ka dugdha (Goat milk) each 10ml, Bhringraj (Eclipta alba) (Pl.)40ml.
Reference Book - Bhaishajya Ratnavali
Tansukh Shadbindu Tail contains a harmonious blend of natural ingredients, including:
Sesame oil:

 

Known for its nourishing and lubricating properties, sesame oil forms the base of this formulation.
Brahmi (Bacopa monnieri):

 

This herb is renowned for improving cognitive function and alleviating stress.
Jatamansi (Nardostachys jatamansi):

 

Known for its calming and relaxing effects on the mind and body.
Camphor (Cinnamomum camphora):

 

Provides a cooling and soothing sensation, aiding in headache relief.
Eucalyptus oil (Eucalyptus globulus):

 

Helps clear the respiratory passages and promotes sinus relief.
Storage:
Store Shadbindu Tail in a cool, dry place, away from direct sunlight. Ensure the bottle is tightly sealed to maintain its potency and effectiveness.
Dosage:
One drop in each nostril twice a day.
Shelf life:
it has a shelf life of 3 years from the date of manufacture. Please check the packaging for specific information.
Safety Information:
For external use only. Avoid contact with eyes.
Keep out of reach of children.
Consult a physician if you are pregnant or nursing and if you have a known medical condition or healthcare practitioner before using this product.
Discontinue use if any allergic reactions or discomfort occur.
Performing a patch test before using any new product is always advisable.
Where can you buy
Shadbindu Tail's price is quite reasonable. You can purchase Shadbindu Tail online here. The product is available on retail sites like Amazon, Flipkart and 1mg. It would help if you visited your nearest Ayurvedic store to buy it over the counter.
Amazon , 
Flipkart , 
TATA 1Mg