MRP ()
Regular price
Sale price
₹ 71.43
Unit price
per
Sale
Sold out
Therapeutic Uses (Benefits)

Deep Nourishment
Stress Relief
Antioxidant Powerhouse
Non-Greasy Formula
Key Ingredients:

Each 10ml contains : Olive Oil (Olea europaea)
Directions for Use:

As directed by an Ayurvedacharya or Physician.
Safety Information:

Read the label carefully before use
Store in a cool place and dry place, Away from direct sunlight
Keep out of the reach of children
Do not exceed the recommended dose

View full details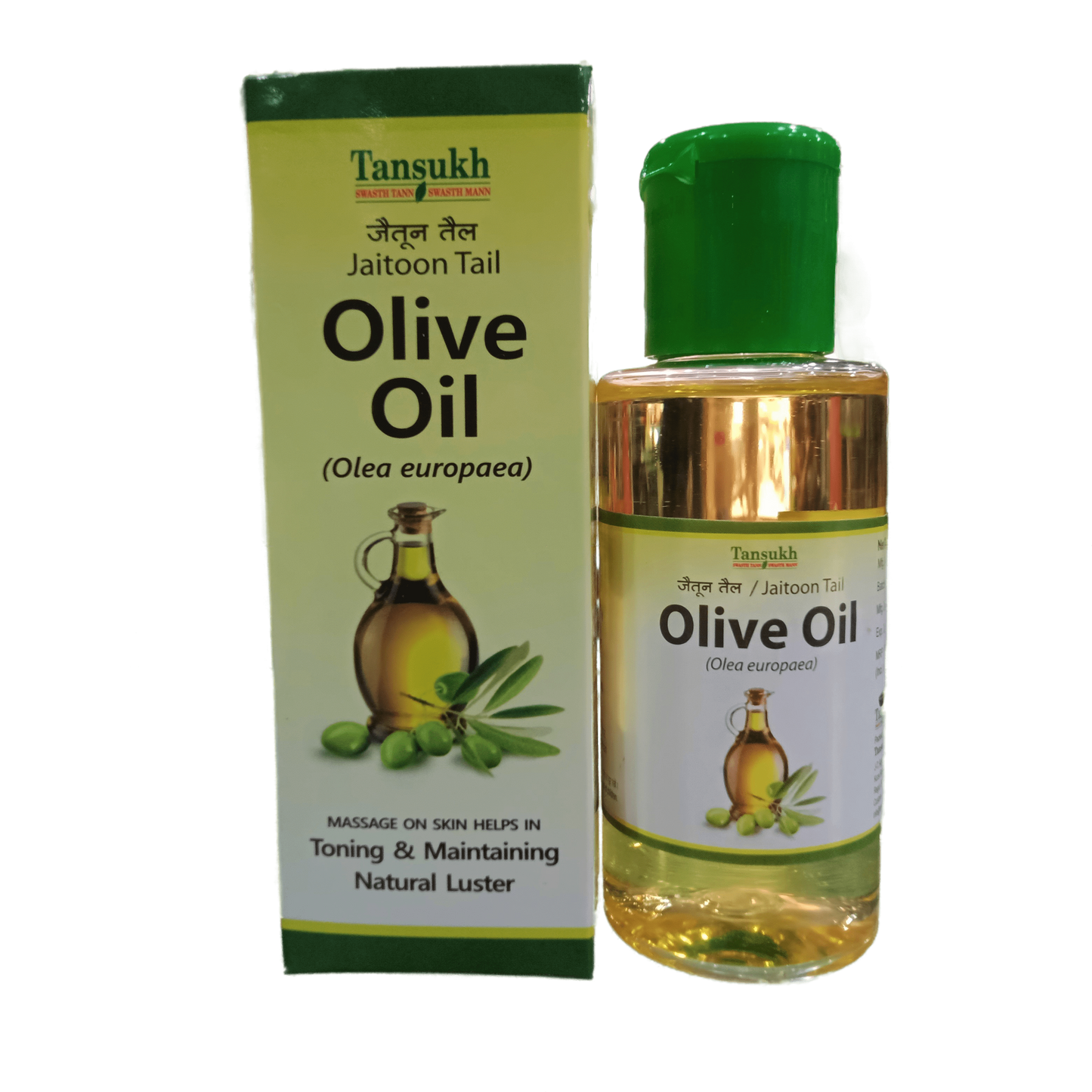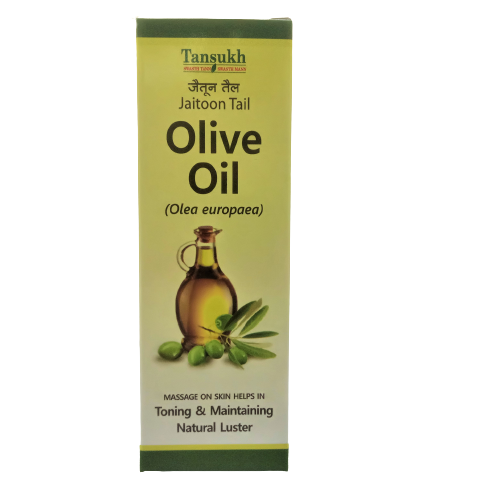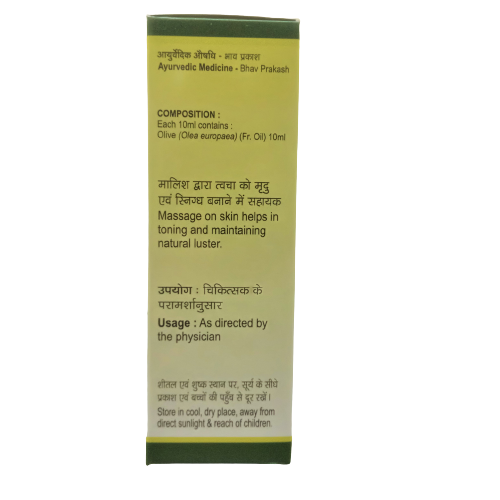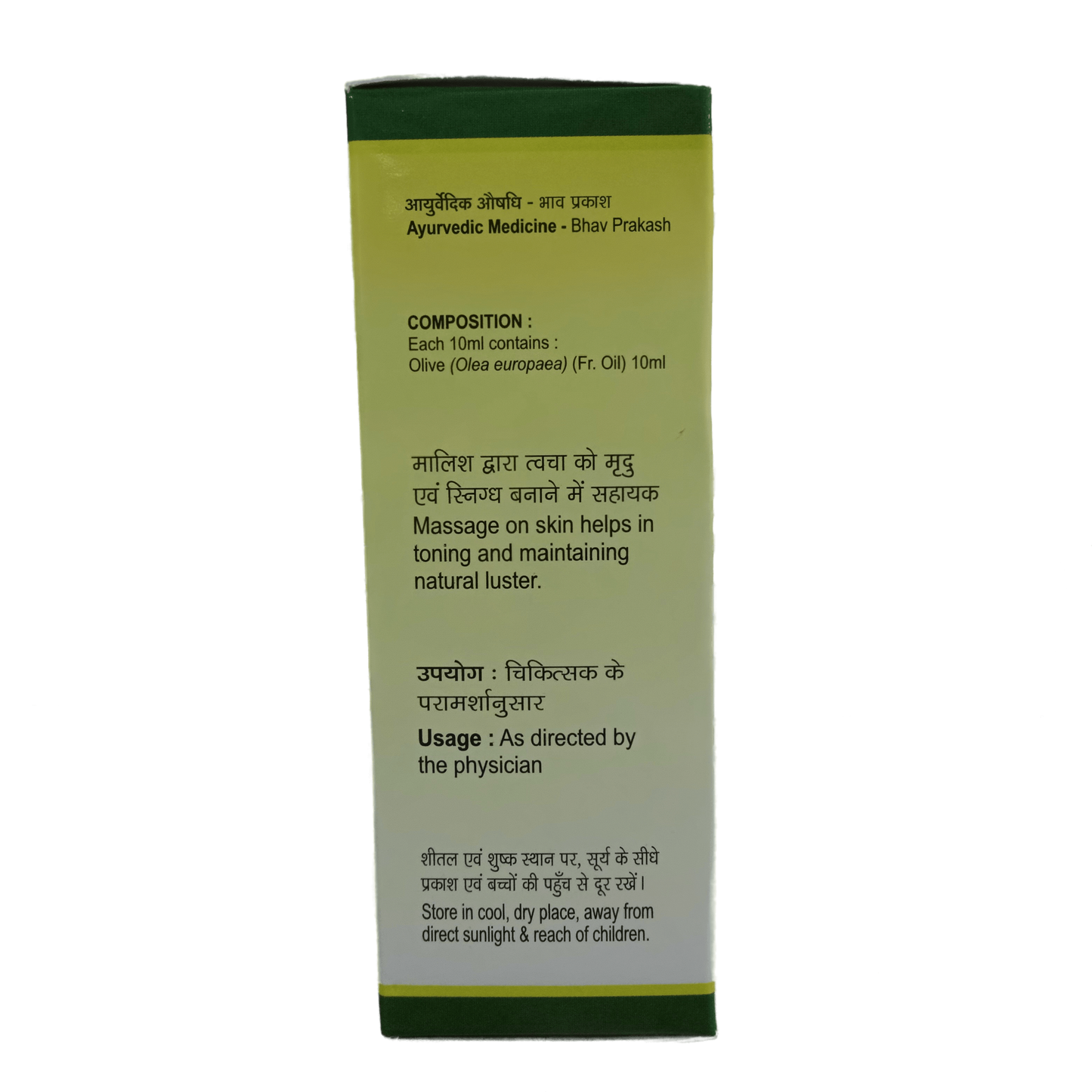 Tansukh Olive Oil (Jaitoon Tail) for Body Massage
Unlock the secret to radiant, supple skin with Tansukh Olive Oil (Jaitoon Tail) - a luxurious elixir crafted for a rejuvenating body massage experience. Made from the finest olives, this oil is a treasure trove of natural goodness, designed to pamper and nourish your skin.
Tansukh Olive Oil, Effective in Massage on skin helps in toning and maintaining natural luster.
Key Benefits:
Deep Nourishment:

Infused with the pure essence of olives, our Tansukh Olive Oil penetrates deeply to provide your skin with intense hydration, leaving it soft, smooth, and glowing.

Stress Relief:

The soothing properties of this oil help alleviate tension and promote relaxation, making it an ideal choice for a calming massage after a long day.

Antioxidant Powerhouse:

Packed with antioxidants, Tansukh Olive Oil safeguards your skin against environmental stressors, helping to maintain a youthful and radiant complexion.

Non-Greasy Formula:

Our fast-absorbing formula ensures that the oil is readily absorbed, leaving your skin feeling refreshed and rejuvenated without any sticky residue.
How to Use:
Warm a small amount of Tansukh Olive Oil in your palms.

Gently massage onto clean, damp skin using circular motions.

Allow the oil to absorb for a few minutes, and revel in the blissful relaxation.
Olive Oil In Hindi |Olive Oil Meaning In Hindi:
Olive oil is called "जैतून का तेल" (Jaitoon ka Tel).
Jaitoon Ke Tel Ke Fayde (जैतून का तेल (Olive oil) के फायदे):
त्वचा के लिए उपयुक्तता:

जैतून का तेल त्वचा को नमी और ताजगी प्रदान करता है। यह त्वचा को रंगीन बनाने में मदद करता है और उसकी ताजगी बनाए रखता है।

बालों के लिए सेहतमंद:

जैतून का तेल बालों को मुलायम और चमकदार बनाने में मदद करता है। यह बालों को टूटने से रोकता है और उन्हें मजबूत बनाता है।

हृदय स्वास्थ्य के लाभ:

जैतून का तेल अल्फा-लिनोलेनिक एसिड और फोलिक एसिड की अच्छी स्रोत है, जो हृदय स्वास्थ्य के लिए लाभकारी होते हैं।

कोलेस्ट्रॉल को नियंत्रित करने में सहायक:

जैतून का तेल शरीर के लिपिड प्रोफाइल को सुधारता है और आच्छा कोलेस्ट्रॉल को बढ़ाता है।

शरीर के ऊर्जा स्तर को बढ़ाने में मदद करता है:

यह वसा में उच्च अंतरणशीलता के कारण शरीर को ऊर्जा प्रदान करता है और ऊर्जा स्तर को बढ़ाता है।

डायबिटीज के प्रबंधन में सहायक:

जैतून का तेल इंसुलिन की उत्पत्ति और उसके उपयोग को सुधारने में मदद कर सकता है, जिससे डायबिटीज का प्रबंधन किया जा सकता है।

कैंसर से सुरक्षा:

जैतून का तेल विभिन्न रक्त कोशिकाओं की अणुशोधन में सहायक हो सकता है और कैंसर के खिलाफ रक्षा कर सकता है।

पाचन सिस्टम को बेहतर बनाता है:

जैतून का तेल आयरन के अवशोषण को बढ़ा सकता है और पाचन सिस्टम को स्वस्थ बनाने में मदद कर सकता है।

शरीर में जोड़ों को लचीलापुर्ण बनाता है:

जैतून का तेल जोड़ों की लचीलापुर्णता को बढ़ा सकता है और उन्हें आराम दे सकता है।

उत्थान करने में सहायक:

जैतून का तेल उत्थान के प्रक्रिया को बढ़ा सकता है और मानसिक चुनौतियों को सहायक कर सकता है।
कृपया ध्यान दें कि यहाँ दी गई जानकारी केवल सामान्य सलाह के रूप में है और किसी भी चिकित्सा समस्या के लिए विशेषज्ञ या चिकित्सक की सलाह लेनी चाहिए।
Ingredients:
Size Available:
50ml

100ml

200ml

500ml

1ltr
Elevate your self-care routine with Tansukh Olive Oil (Jaitoon Tail) for Body Massage. Let the natural richness of olives embrace your skin, leaving it supple, relaxed, and glowing with vitality. Experience the fusion of nature and indulgence only with Tansukh.
Where You Can Buy
Tansukh Olive Oil (Jaitoon tail) price is quite reasonable. You can purchase Olive Oil online here. The product is available on retail sites like Amazon, Flipkart, and 1mg. If you want to buy it over the counter, you should visit your nearest Ayurvedic store.