MRP ()
Regular price
₹ 352.68
Sale price
₹ 317.86
Unit price
per
Sale
Sold out
Therapeutic Uses (Benefits)

View full details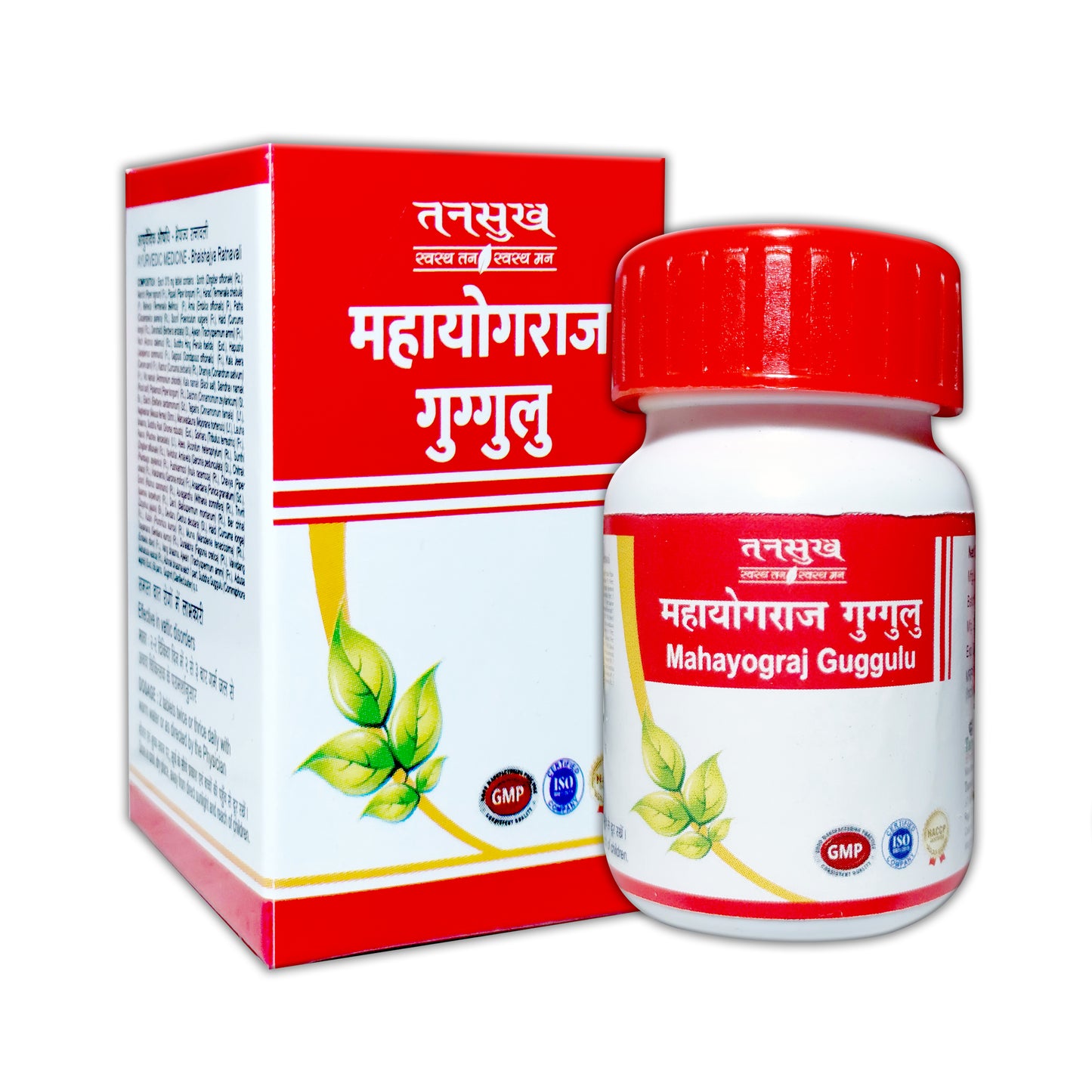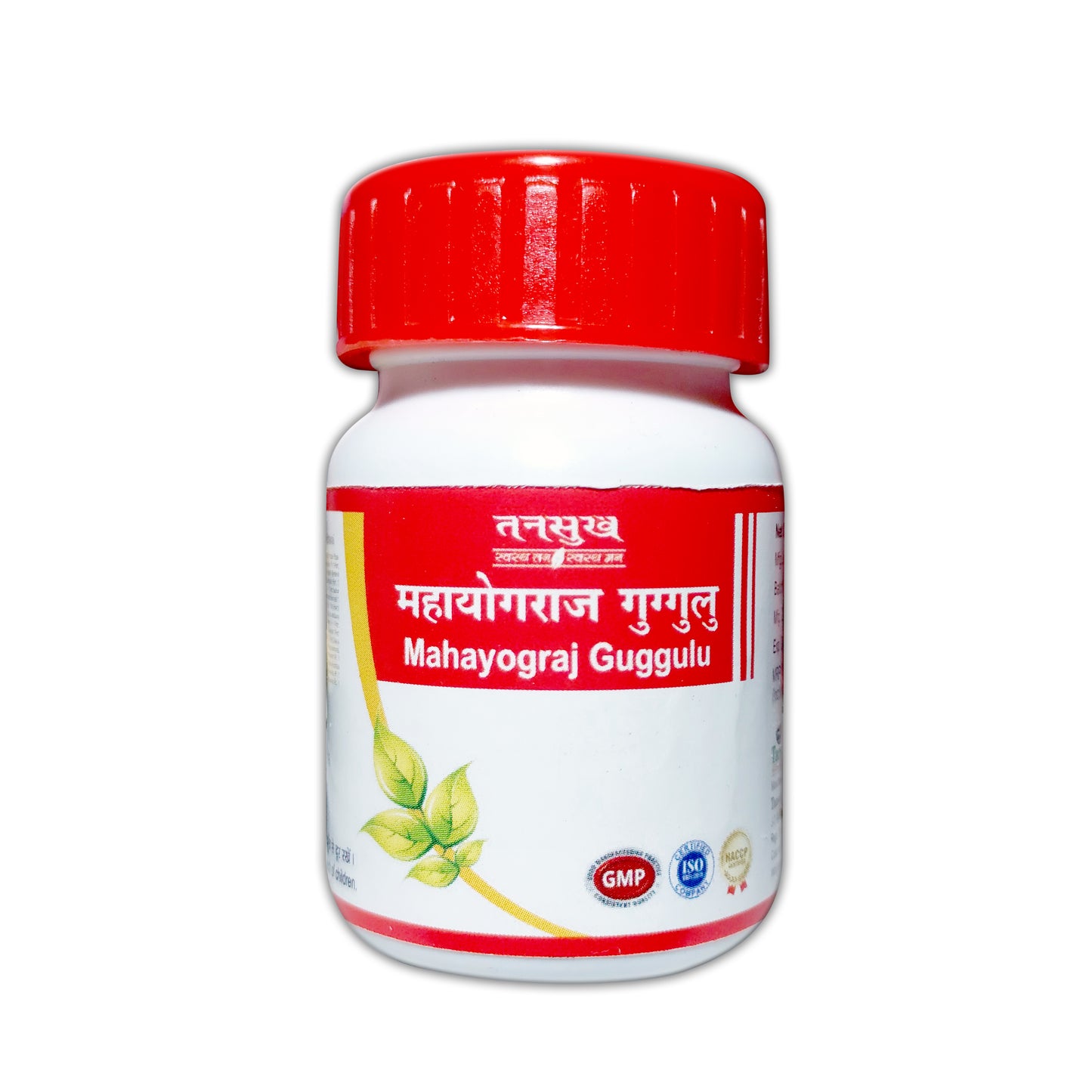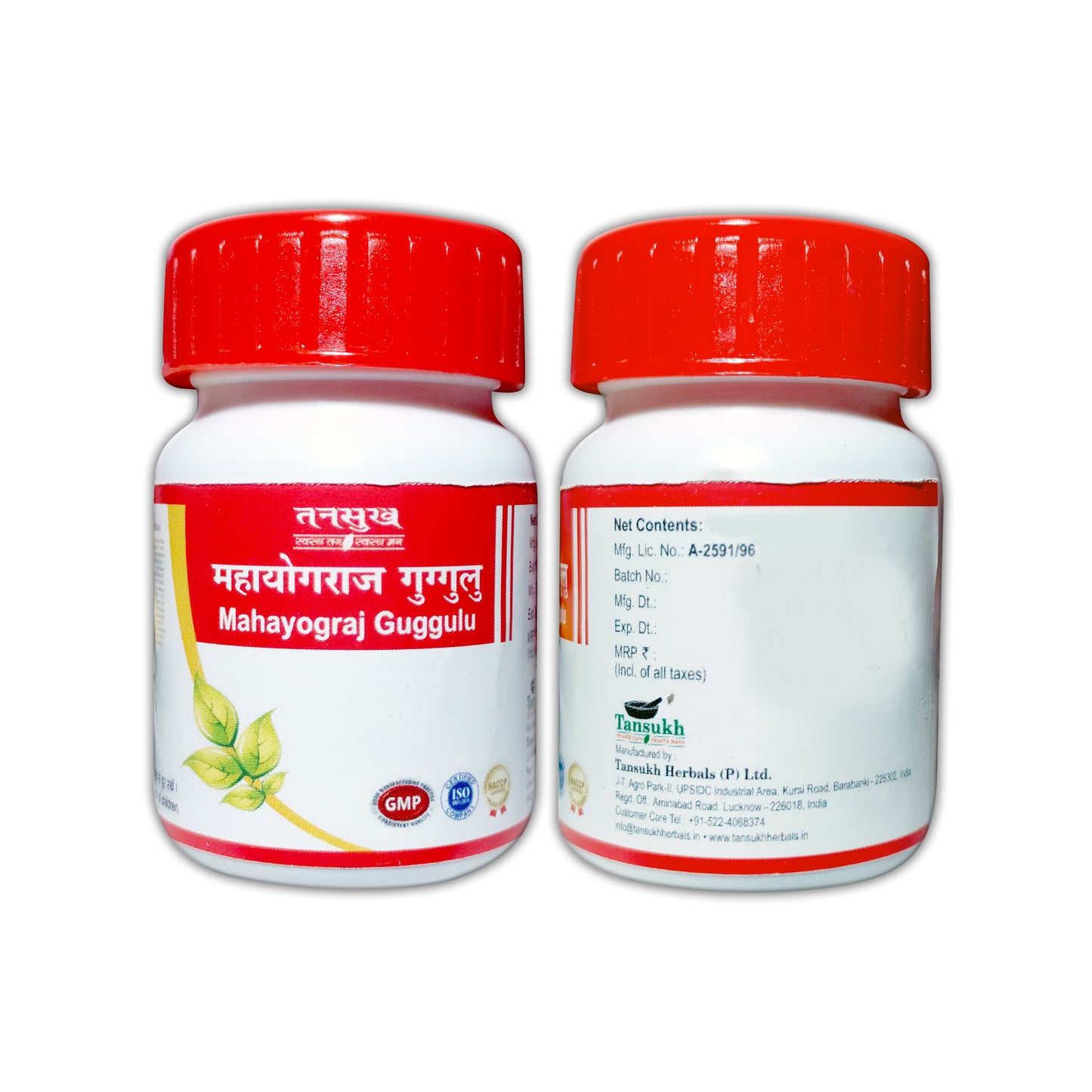 Mahayograj Guggulu (महायोगराज गुग्गुलु), is an Ayurvedic classical medicine used to treat many health conditions for centuries. This is a combination of medicinal herbs used to treat a wide range of medical conditions.
Mahayograj Guggul Benefits:
Reduces joint pain and inflammation
Helps with arthritis and other inflammatory conditions
Boosts immunity
Promotes healthy digestion
Improves circulation
Reduces stress and anxiety
Mahayograj Guggul Ingredients:
Maha Yogaraja Guggulu contains a blend of herbs, including Guggulu resin, Triphala (a combination of three fruits), Vidanga fruit, Ajwain seed, Chavya root, Shunthi root, Pippali fruit, Musta root, Chitrak root, Guduchi stem, and Haritaki fruit.
COMPOSITION - Each 375 mg tablet contains: Sonth (Zingiber offcinale) (Rz.) ;
Marich (Piper nigrum) (Fr.), Pippali (Piper longum)(Fr.), Harad (Temenalia chebula)(P.) , Baheda (Temenalia Bellirica) (P.) , Amla (Embilica officinalis) (P) , Patha (Cissampelos Pareira)(Rt.) , Sounf (Foeniculum vulgare) (Fr.) , Haldi (Curcuma longa) (Rz.) , Daruhaldi (Berberis aristata) (St.) , Ajwain (Trachyspemum ammi)(Fr.), Vach (Acorus calamus)(Rz.), Suddha Hing (Ferula foetida) (Exd.), Hapusha (Juniperrus communis)(Fr.), Gajpipal (Scindapsus officinalis) (Fr.), Kala Jeera (Carum cavi)(Fr.), Kachur (Curcuma zedoaria)(Rt.) , Dhaniya (Coriandrum sativum) (Fr.), Vid namak (Ammonium chloride), Kala namak (Black salt), Saindhav namak (Rock salt), Piplamool (Piper longum) (Rt.) , Dalchini (Cinnamomum zeylanicum) (St.Bk.), Elaichi (Elettaria cardamomum)(Sd.), Tejpatra (Cinnamomum tamala) (Lf.), Nagkeshar (Mesua ferrea) (Stmn), Maruwadauna (mojorana hortensis) (Lf.) , Lauha bhasma, Suddha Raal (Shorea robusta) (Exd.),Gokharu (Tribulus terrestris) (Fr.), Rasna (Pluchea lanceolata) (Lf.), Atees (Aconitum heterophylum) (Rt.), Sunthi (Zingiber officinale) (Rz.), Yavkshar, Amlaveta (Garcinia pedunculata) (St.),Suddha Guggulu (Commiphora Wightii) (Exd.) 56 parts, Goghrit (Clarified butter) q.s.
Storage:
Store Maha Yogaraja Guggulu (महायोगराज गुग्गुलु) in a cool, dry place away from direct sunlight.
Dosage:
The recommended dosage of Mahayogaraja Guggulu is 1-2 tablets twice daily with warm water or as directed by a healthcare professional.
Shelf Life: The shelf life of Mahayograj Guggulu is 5 years from the date of manufacturing.
Safety Information:
Mahayograj Guggulu, when taken in accordance with the instructions, is generally safe. It should not be consumed by women who are pregnant, breastfeeding, children or those with liver or renal disease. Consult a professional healthcare provider before starting any new supplement regime.
Mahayograj Guggul Side Effects:
There are no noted side effects of Mahayograj Guggulu but it is advised to be taken only in the prescribed doses and under medical supervision only.
Where can you buy
Mahayograj Guggul Price is quite reasonable. You can purchase Mahayogaraja Guggulu online here. The product is available on retail sites like Amazon, Flipkart and 1mg. If you want to buy it over the counter, you should visit your nearest Ayurvedic store.