MRP ()
Regular price
₹ 98.21
Sale price
₹ 88.39
Unit price
per
Sale
Sold out
Therapeutic Uses (Benefits)

View full details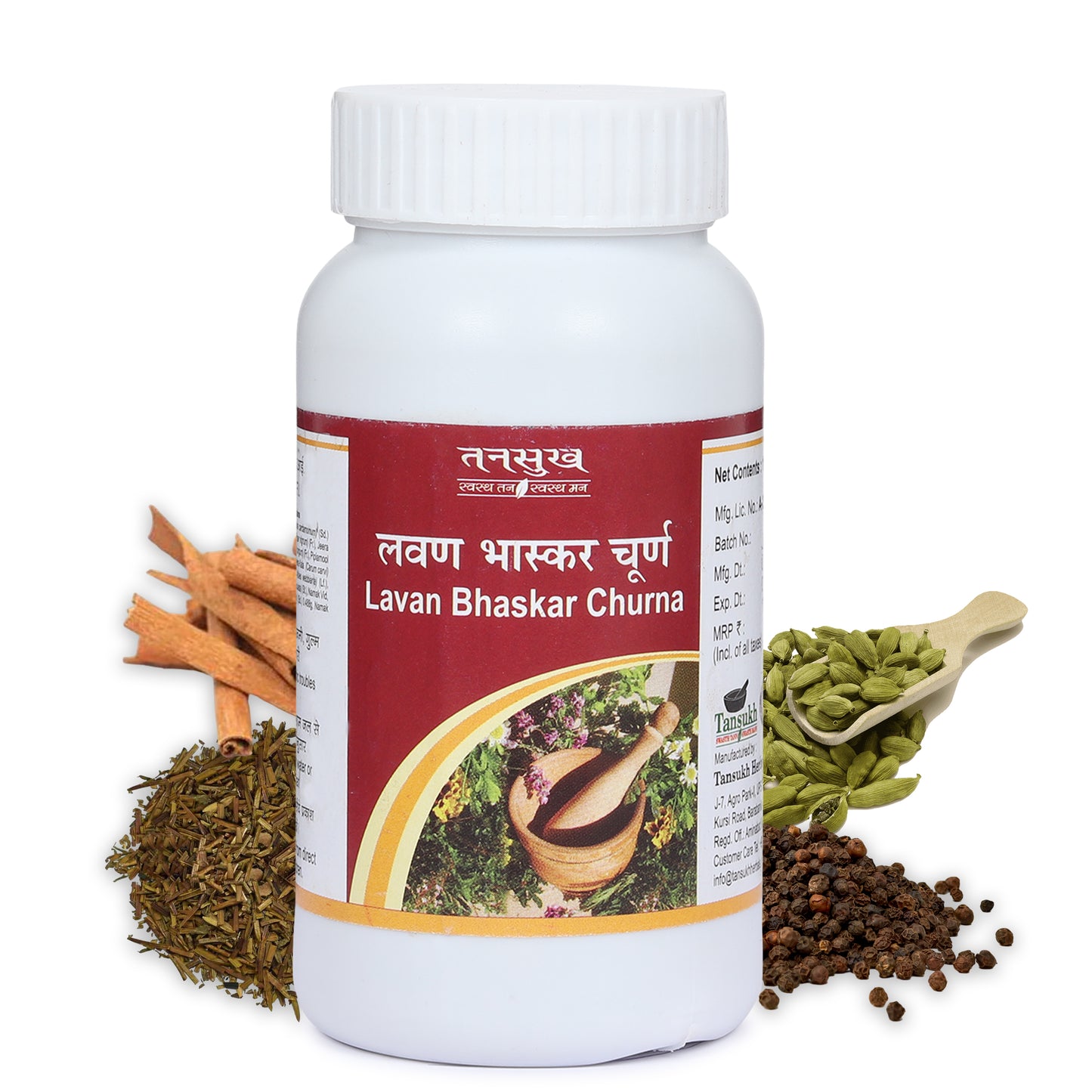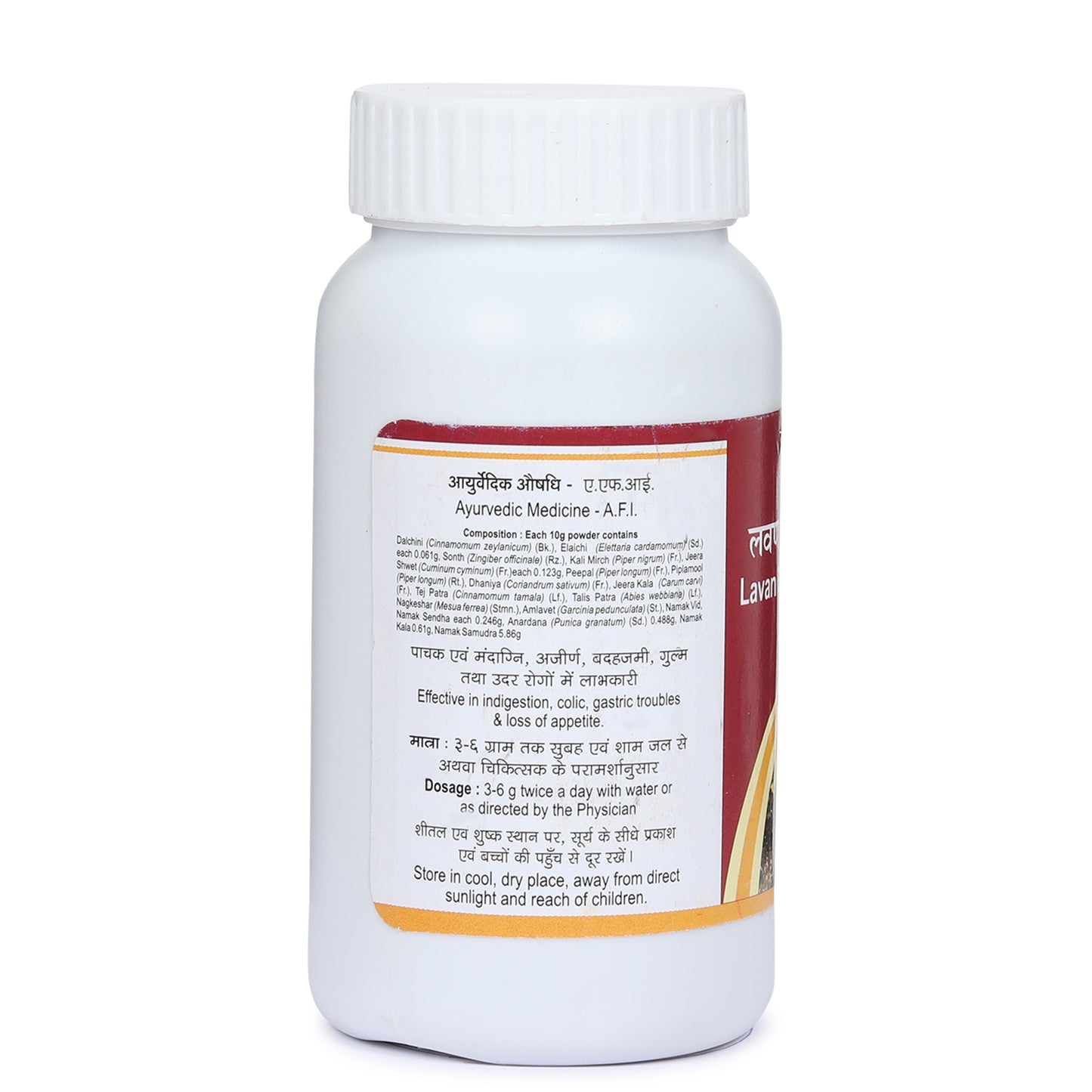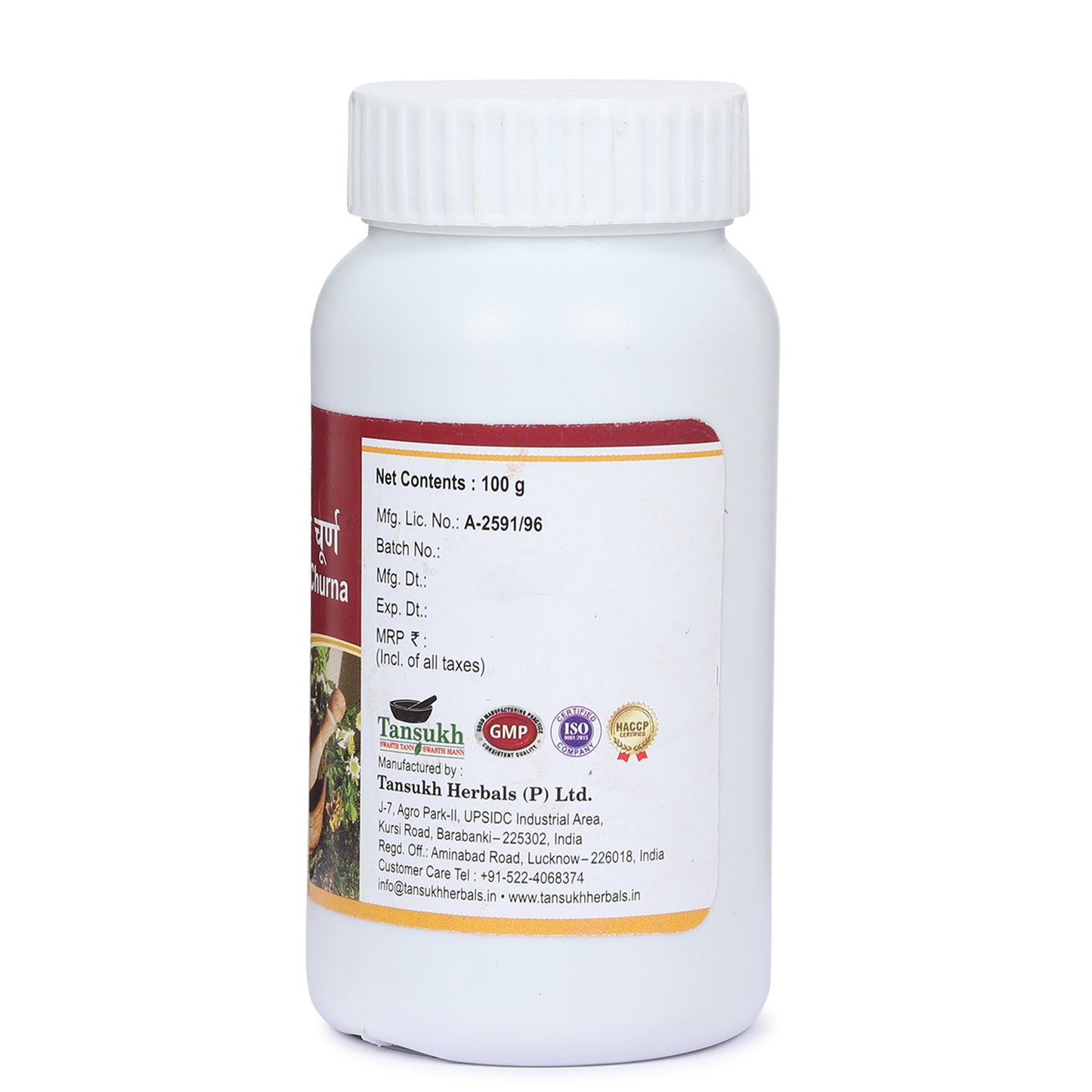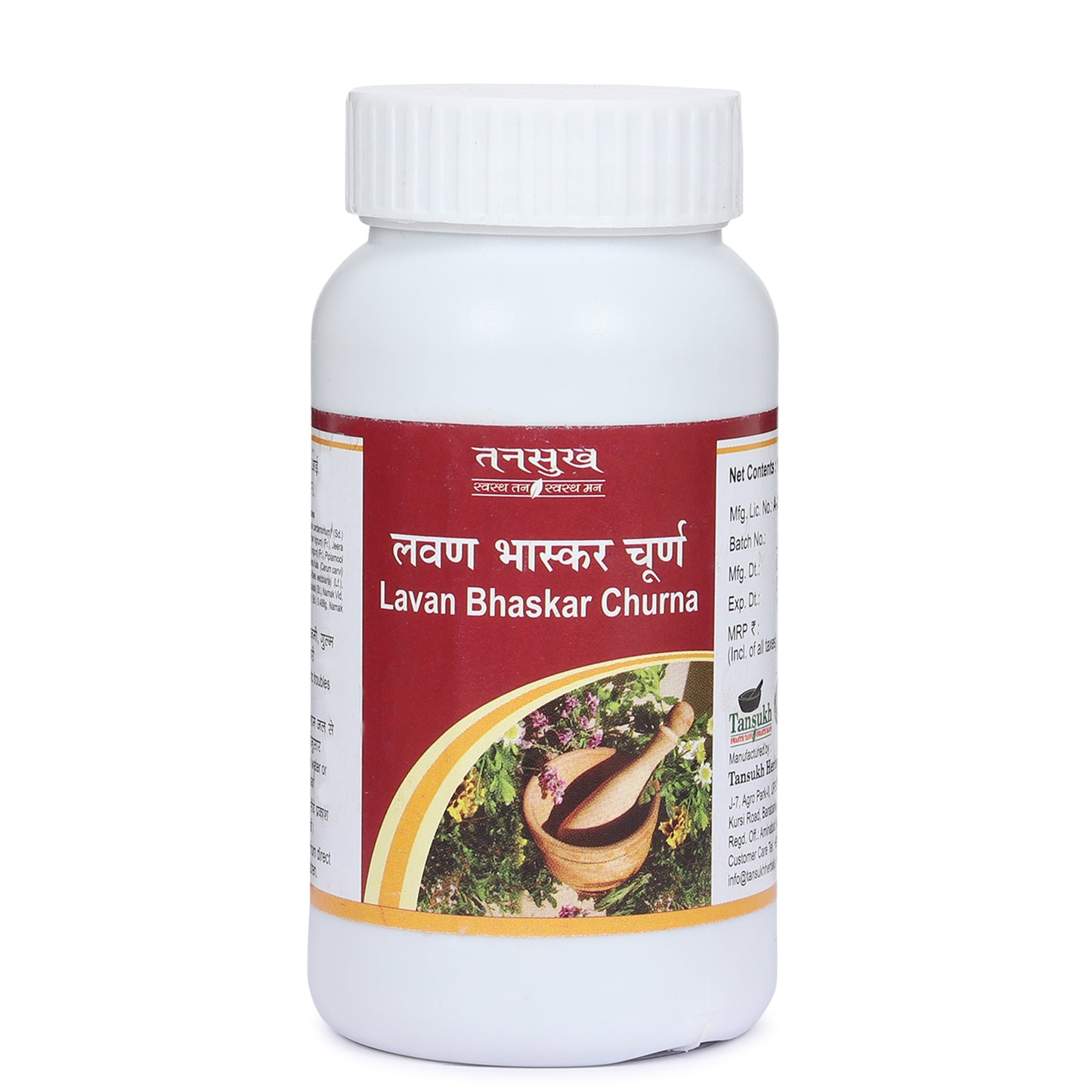 Lavan Bhaskar Churna is a traditional Ayurvedic formulation. For centuries, digestive health has been promoted by using this ancient remedy. Alleviate various digestive disorders. It is a blend of natural ingredients known for their therapeutic properties in treating indigestion, colic, gastric troubles, and loss of appetite. Lavan Bhaskar Churna is carefully prepared following ancient Ayurvedic principles to provide effective relief and support digestive well-being.
Lavan Bhaskar Churna Benefits:
Relieves Indigestion:

 

Lavan Bhaskar Churna is highly effective in relieving indigestion and its associated symptoms, such as bloating, flatulence, and abdominal discomfort. The combination of herbs in the churna helps improve digestion and promotes the secretion of digestive enzymes, facilitating proper breakdown and assimilation of food.
Soothes Gastric Troubles:

 

This churna is known for calming gastric troubles, including hyperacidity and acid reflux. The natural ingredients in Lavan Bhaskar Churna help balance the production of stomach acids, reducing the occurrence of acidity-related symptoms like heartburn and nausea.
Alleviates Colic:

 

Lavan Bhaskar Churna is commonly used to relieve colic, a condition characterized by severe abdominal pain caused by spasms in the gastrointestinal tract. The carminative and antispasmodic properties of the churna help ease the spasms and relieve colicky pain.
Restores Appetite:

 

Loss of appetite can result from various factors, including digestive disturbances. Lavan Bhaskar Churna helps restore the natural appetite by improving digestion, stimulating the taste buds, and enhancing the secretion of digestive juices.
Lavan Bhaskar Churna Uses In Hindi | लवण भास्कर चूर्ण के उपयोग:
पाचन संबंधी समस्याओं के लिए: लवण भास्कर चूर्ण पाचन संबंधी समस्याओं को दूर करने में मदद करता है। यह पेट में गैस, पेट में सूजन, और पेट में दर्द जैसे लक्षणों को कम करने में सक्षम होता है।

आंत्र मंदता के लिए: यह चूर्ण आंत्र मंदता (कोलिक) को कम करने में मदद करता है। कोलिक में होने वाले पेट के दर्द को कम करने के लिए इसका उपयोग किया जाता है।

अपच के लिए: अपच (अच्छी तरह से पच न पाना) के लिए लवण भास्कर चूर्ण बहुत प्रभावी है। यह भोजन को अच्छी तरह से पचाने में मदद करता है और भोजन के खाद्य तत्वों को ठीक से अवशोषित करने में सहायक होता है।

जीर्ण-विकृति के लिए: लवण भास्कर चूर्ण पेट की समस्याओं को दूर करने में उपयोगी है, जैसे कि अपच, गैस, और दर्द। इसका उपयोग भोजन की पचाने और पेट की सामान्य स्वास्थ्य को सुधारने में किया जाता है।

भूख को बढ़ाने के लिए: यदि आपको खाने की भूख में कमी हो रही है, तो लवण भास्कर चूर्ण आपकी भूख को बढ़ाने में मदद कर सकता है। यह पाचन को सुधारता है, स्वाद बढ़ाता है, और पाचन रसों की उत्पादन को बढ़ाता है।

अम्लता के लिए: लवण भास्कर चूर्ण में मौजूद अम्लता से जुड़े लक्षणों को कम करने में मदद कर सकता है। यह पेट में जलन, हार्टबर्न, और मतली जैसे अम्लता संबंधी लक्षणों को कम करने में मदद करता है।
Lavan Bhaskar Churna Ingredients:
Refferance Book - F.F.I.
Composition: Each 10g powder contains
Dalchini (Cinnamomum zeylanicum)(Bk.), Elaichi (Elettaria cardamomum)(Sd.) each 0.061g, Sonth (Zingiber officinale)(Rz.), Kali Mirch (Piper nigrum)(Fr.), Jeera Shwet (Cuminum cyminum)(Fr.) each 0.123g, Peepal (Piper longum)(Fr.), Piplamool (Piper longum)(Rt.), Dhaniya (Coriandrum sativum)(Fr.), Jeera Kala (Carum carvi)(Fr.), Tej Patra (Cinnamomum temala)(Lf.), Talis Patra (Abies webbiana)(Lf.), Nagkeshar (Mesua ferrea)(Stmn.), Amlavet (Garcinia pedunculata)(St.), Namak Vid, Namak Sendha each 0.246g, Anardana (Punica grantum)(Sd.)0488g, Namak kala 0.61g, Namak Samudra 5.86g
Lavan Bhaskar Churna is formulated using a precise combination of natural herbs and minerals. The key ingredients include:
Saindhava Lavana (Rock Salt):

 

It aids in digestion and helps in the absorption of nutrients.
Black Salt (Kala Namak):

 

Known for its digestive stimulant properties and helps in alleviating digestive disorders.
Pippali (Long Pepper):

 

Promotes digestion and enhances appetite.
Pippali Mool (Long Pepper Root): Helps relieve abdominal pain and colic.
Maricha (Black Pepper):

 

Enhances digestion and alleviates flatulence.
Shunthi (Dry Ginger):

 

Supports digestion, reduces inflammation, and improves appetite.
Hing (Asafoetida):

 

Has carminative properties and aids in relieving flatulence and bloating.
Ajwain (Carom Seeds):

 

Known for its digestive and carminative properties.
Jeeraka (Cumin Seeds):

 

Supports digestion, reduces bloating, and improves appetite.
Sarjika Kshara (Sodium Bicarbonate):

 

Helps balance acidity levels and aids digestion.
Lavan Bhaskar Churna Uses:
Effective in indigestion, colic, gastric troubles and loss of appetite.
Storage:
Store Lavan Bhaskar Churna in a cool, dry place, away from direct sunlight and moisture. Ensure the container is tightly sealed to maintain its potency and freshness.
Dosage:
3 to 6 grams twice a day with water or as directed by Physician or Ayurvedacharya
Shelf Life:
The shelf life of Lavan Bhaskar Churna is 24 Months.
Safety Information:
Lavan Bhaskar Churna is generally safe for most individuals when taken as directed. It is still recommended that you consult with a health professional before starting any new herbal supplement. This is especially important if you are on other medications or have health conditions.
Keep out of reach of children.
Pregnant women, nursing mothers, and individuals with known allergies or hypersensitivity to ingredients You should use this product with caution and consult a physician before using it.
In case of any adverse reactions or discomfort, discontinue use and consult a healthcare professional.
Where you can buy:
Lavan Bhaskar Churna's price is quite reasonable. You can purchase Lavan Bhaskar Churna online here. The product is available on retail sites like Amazon, Flipkart and 1mg. It would help if you visited your nearest Ayurvedic store to buy it over the counter. 
Amazon , 
Flipkart , 
TATA 1Mg