MRP ()
Regular price
₹ 31.25
Sale price
₹ 35.71
Unit price
per
Sale
Sold out
Therapeutic Uses (Benefits)

Relieves throat infection
Soothes the throat
Supports respiratory health
Restores vocal clarity
Key Ingredients:

Reference Book - Ras Tantra Sar - 1
Compostion - Piperment (Mentha piperment)(Ext.)1 Part, Kapoor (Cinnamomum comphora)(Sub.Ext.), Ela (Elettaria cardamomum)(Sd.), Lavang (Syzgium aromaticum)(Fl.Bd.) each 4 part, Javitri (Myristica fragrans)(Ar.) 8 Part, Mulethi satva (Glycyrrhiza glabra)(Rt. Ext.) 28 Part
Kanth Sudharak Vati contains a unique combination of natural ingredients, including:
Yashtimadhu (Glycyrrhiza glabra): Known for its soothing and anti-inflammatory properties, it helps reduce throat irritation and pain.
Pudina (Mentha piperita): Provides a cooling sensation to the throat, relieving discomfort and itchiness.
Lavang (Syzygium aromaticum): Possesses antimicrobial properties that help combat throat infections.
Sunthi (Zingiber officinale): Supports digestion and has anti-inflammatory effects, aiding in relieving throat inflammation.
Directions for Use:

Take 1 to 2 tablets of Kanth Sudharak Vati twice a day, preferably with warm water or as directed by your healthcare practitioner. Do not exceed the recommended dosage.
Safety Information:

Keep out of reach of children.
Pregnant or nursing women and individuals with known medical conditions should consult a healthcare practitioner before using this product.
If you experience any allergic reactions or discomfort, discontinue use and seek medical attention.
It is always advisable to consult a healthcare professional for personalized advice and recommendations based on your specific needs.

View full details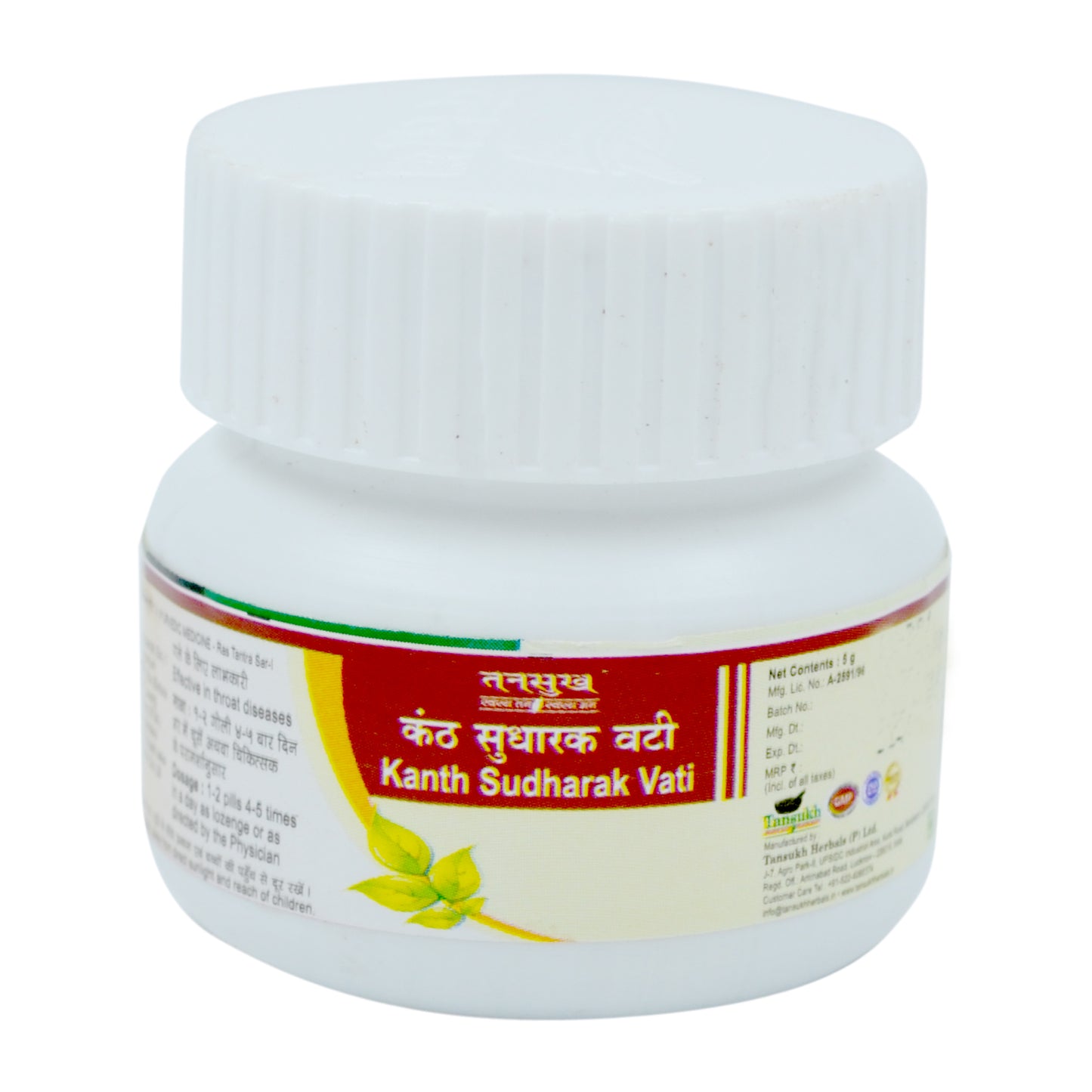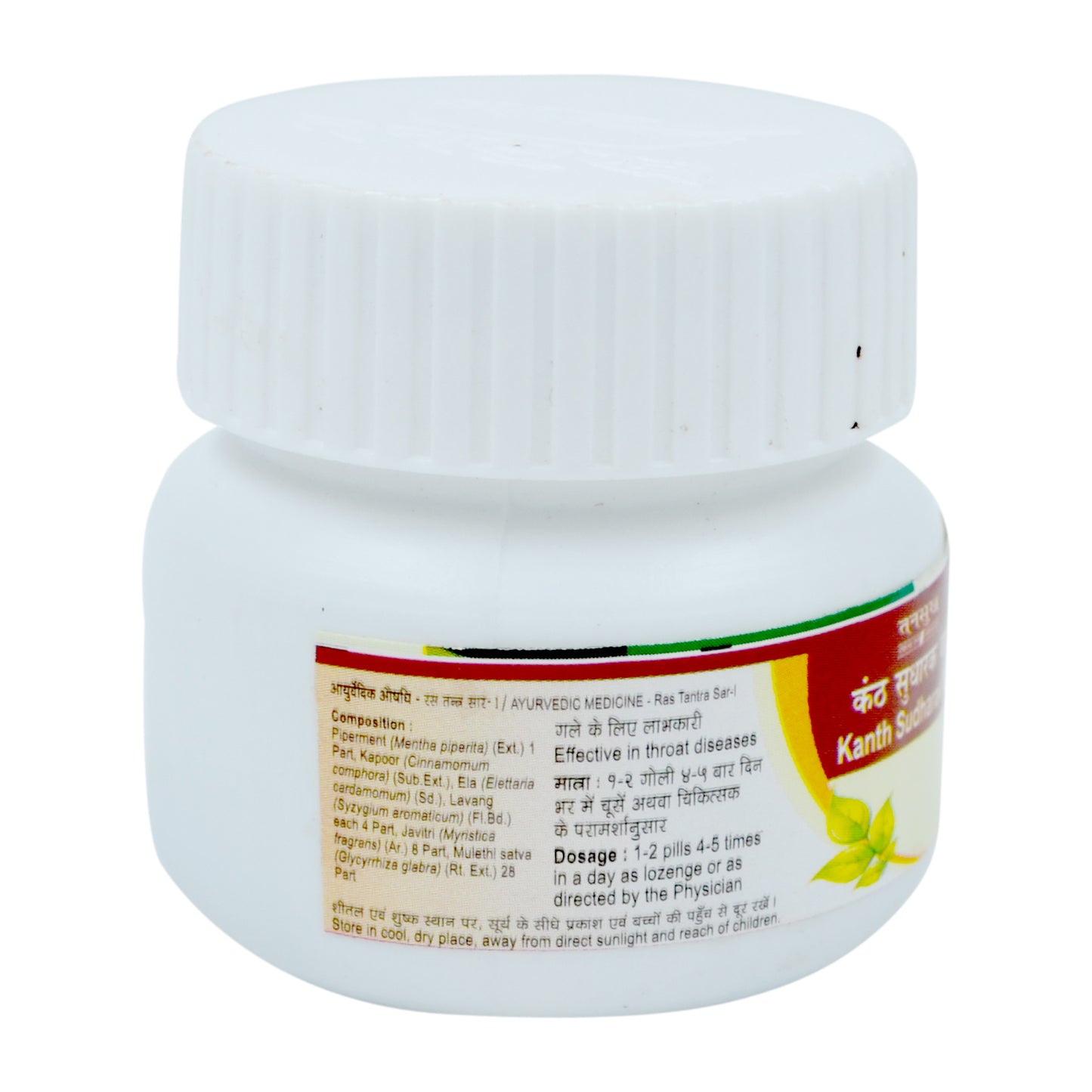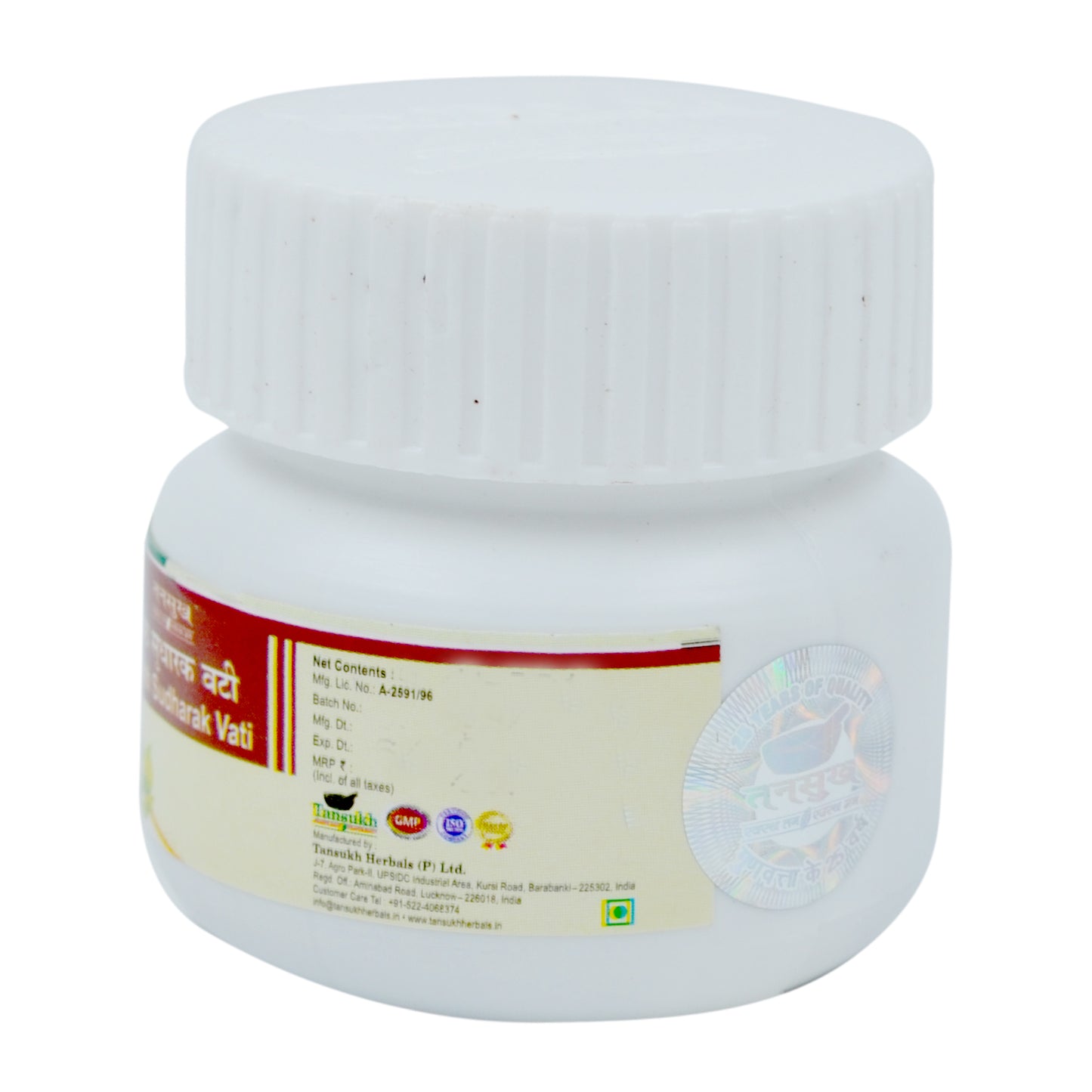 Kanth Sudharak Vati (Tablets) - Useful in Throat Infection like Pain, Harshness, Itchiness in Oesophagus, and similar problems

Information about the product:
Tansukh Kanth Sudharak Vati is an Ayurvedic formulation specially designed to provide relief from throat infections, including pain, harshness, and itchiness in the oesophagus. These tablets are made using a blend of natural ingredients known for their therapeutic properties, following the principles of Ayurveda. Kanth Sudharak Vati helps maintain throat health and supports overall well-being.
Kanth Sudharak Vati Benefits:
Relieves throat infection: Kanth Sudharak Vati offers effective relief from various throat infections, reducing pain, irritation, and itchiness.
Soothes the throat: The natural ingredients in these tablets have soothing properties, providing comfort and alleviating discomfort in the throat.
Supports respiratory health: Kanth Sudharak Vati helps maintain the health of the respiratory system, promoting clear and unobstructed breathing.
Restores vocal clarity: Regular use of these tablets may help restore vocal clarity by reducing hoarseness and improving the overall health of the vocal cords.
Kanth Sudharak Vati Uses
Tansukh Kanth Sudharak Vati is used for the following conditions:
Throat infections
Sore throat
Hoarseness
Itchiness in the oesophagus
Discomfort during swallowing
Storage:
Store Kanth Sudharak Vati in a cool, dry place, away from direct sunlight. Ensure the container is tightly sealed to maintain the tablets' freshness and potency.
Shelf life:
The shelf life of Kanth Sudharak Vati is usually mentioned on the packaging. Generally, it has a shelf life of 3 years from the date of manufacture. Please check the packaging for specific information.
Where you can buy
Tansukh Kanth Sudharak Vati price is quite reasonable. You can purchase Kanth Sudharak Vati online here. The product is available on retail sites like Amazon, Flipkart and 1mg. If you want to buy it over the counter, you should visit your nearest Ayurvedic store.
Mixed Feelings
I've been using these vati for a while now, and while they've helped with my throat issues, the taste is quite strong and it lingers. If the taste was milder, I would give it a higher rating.
Works Like Magic
I didn't expect much when I first tried these vati, but they surprised me with their effectiveness. Quick relief from throat irritation, and they're easy to carry around. I'm definitely keeping these handy.
गले की परेशानी का अच्छा समाधान
मेरे गले में खराश और इरिटेशन की समस्या बहुत थी, लेकिन जबसे मैंने शॉर्ट्स कांठ सुधाकर वटी का इस्तेमाल किया है, तबसे मेरे गले की स्थिति में सुधार हुआ है। यह बिलकुल अच्छा और कारगर है!
Kanth Sudharak Vati
These vati are a blessing, especially during the cold season. I used to frequently suffer from sore throats, but ever since incorporating Kanth Sudhakar Vati into my routine, I've noticed a significant decrease in throat issues.
Good Product
This product has been a game-changer for me. I used to suffer from frequent throat discomfort, but since I started taking Shorts Kanth Sudhakar Vati, my throat feels so much better. It's effective and easy to take. Highly recommended!