MRP ()
Regular price
₹ 71.43
Sale price
₹ 64.29
Unit price
per
Sale
Sold out
Therapeutic Uses (Benefits)

It has ingredients present that are rich in Vitamin C. Hence, it treats joint and bone pains easily.
This powder helps in removing mucus.
This powder is used for healthy bowel function.
This powder helps in low sugar absorption.
This powder is best for digestion as it contains anti-bacterial properties.
Bael powder works effectively in reducing gastric ulcers.
It works in the body to remove bacteria which on the contrary cures diarrhea.
Potassium is the main ingredient of the powder. Hence, it helps purify the blood.
It is rich in glucose and carbohydrates which in turn provide energy to the body.
Also, it is used for treating various skin infections by providing cooling effects.
Any kind of heart condition can be treated with its use.
This powder helps in keeping sugar levels under control
Bel Churna helps in controlling urine frequency in people suffering from sugar.
This powder helps in detoxifying
This powder is tested in the lab for quality, it's Non-GMO, Gluten-free, and Vegan.
Directions for Use:

Take 2 to 3 tablespoons of fruit powder.
Mix the amount in a glass of lukewarm water, make a drink, and consume it.
Also, you can directly take it by mouth with a glass of water without making a mixture.
One can also add some amount of milk to the powder.
Safety Information:

It is best not to consume the powder on an empty stomach.
If you are a pregnant or breastfeeding woman, avoid using it without the consultation of your doctor.
Do not take extra dosage more than recommended
A diabetic patient should always monitor their sugar level after taking it. This is so because this fruit helps reduce blood sugar levels.
For better results, consult your doctor.
If you had recently overcome any surgery, avoid using it.
Take it in the recommended dosage else it can cause an upset stomach.

View full details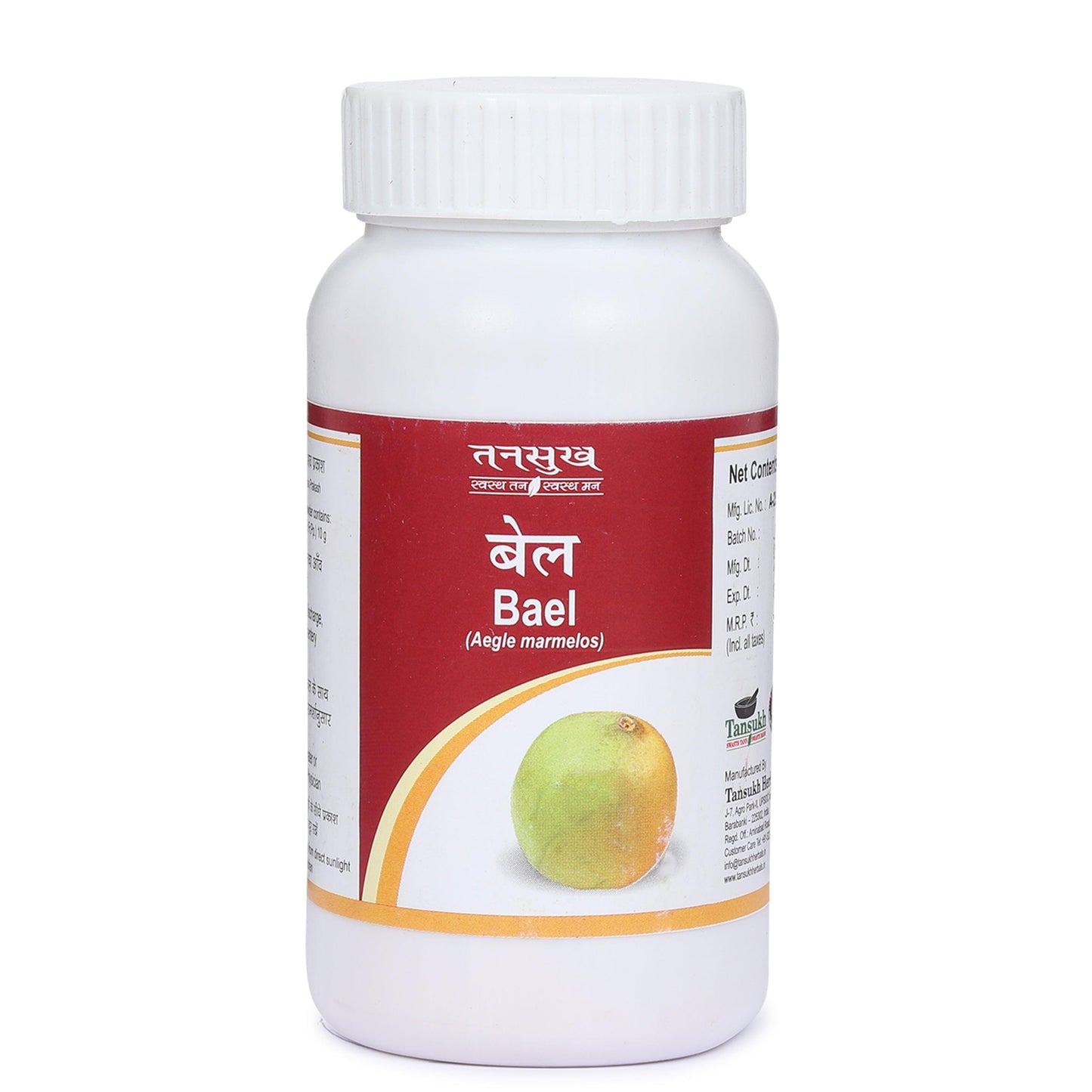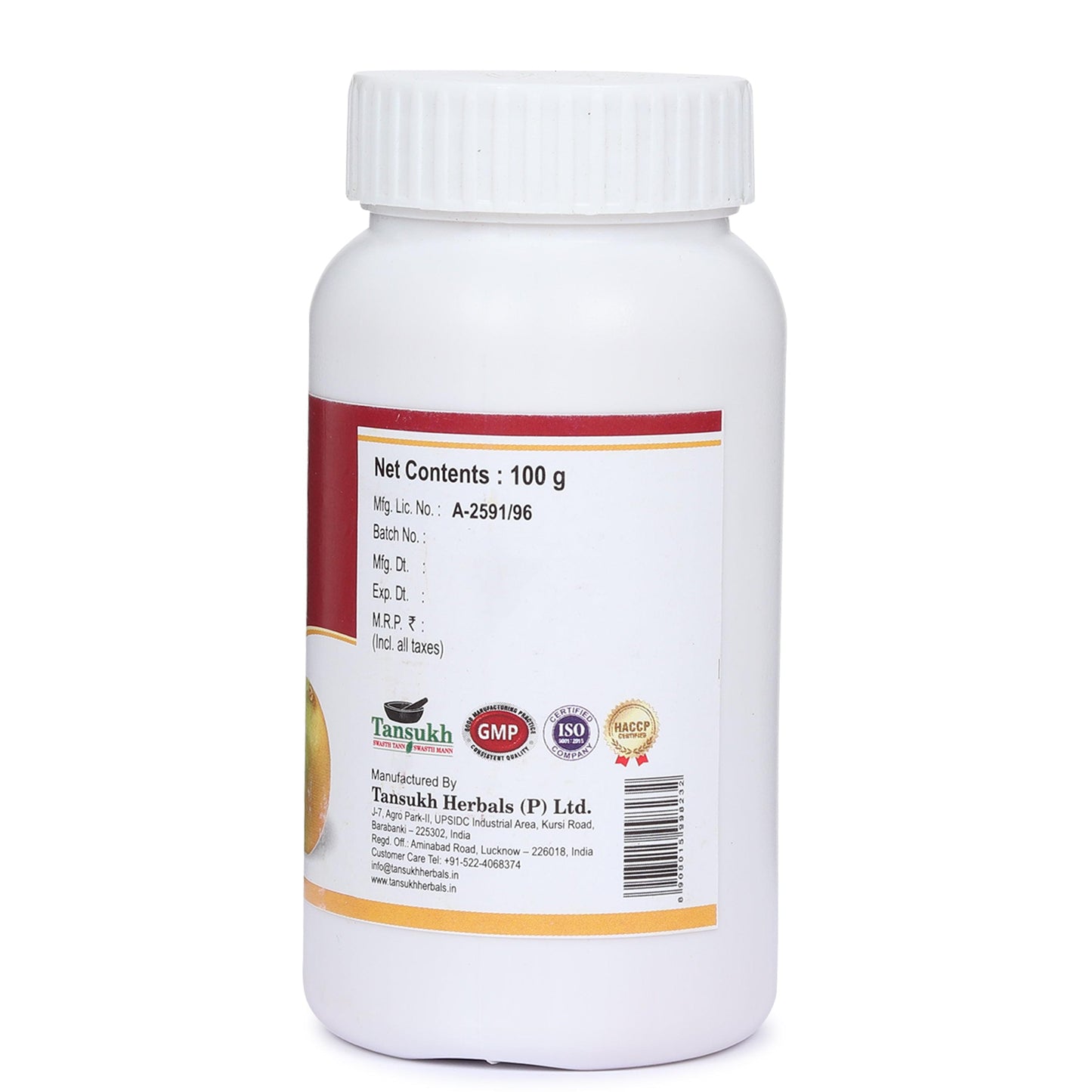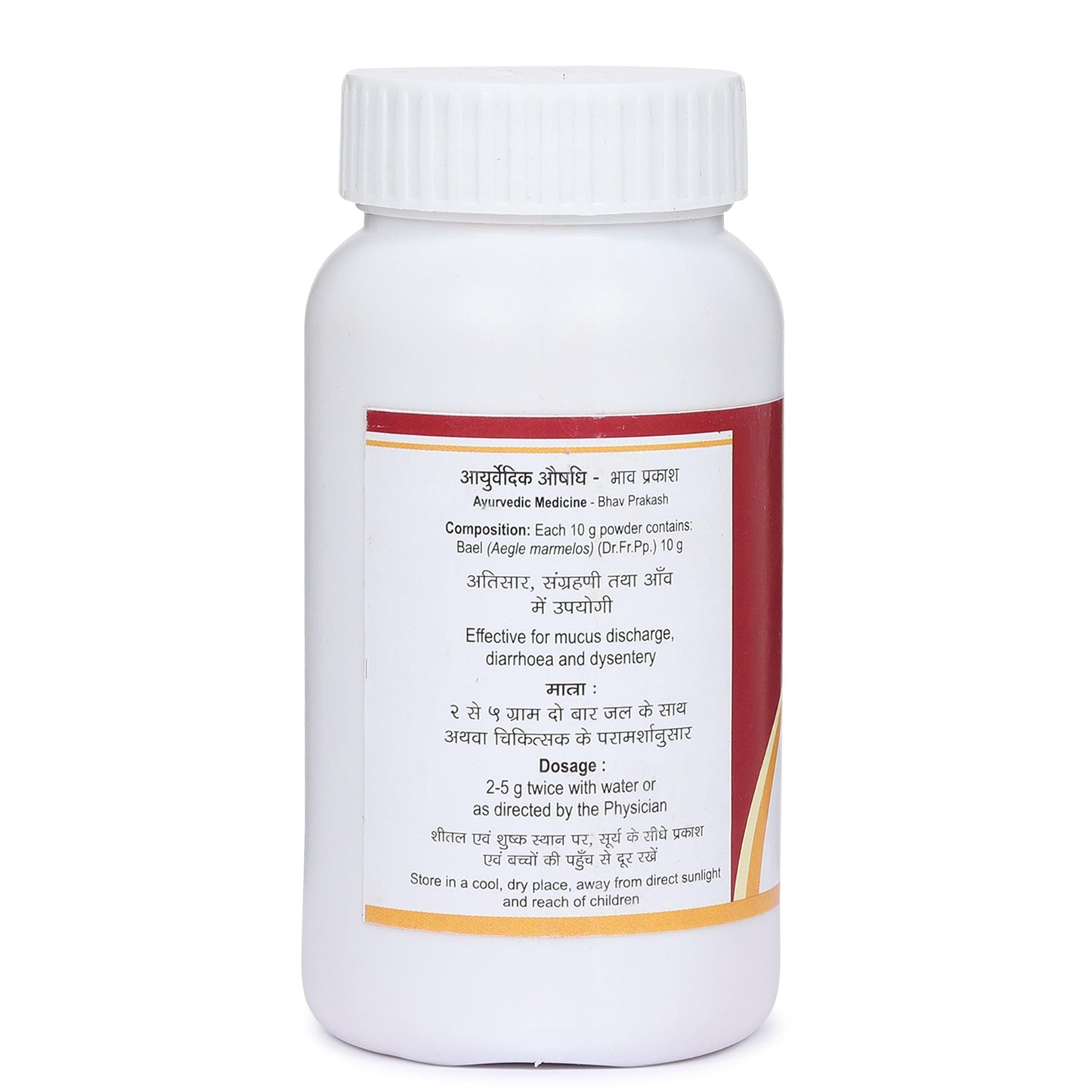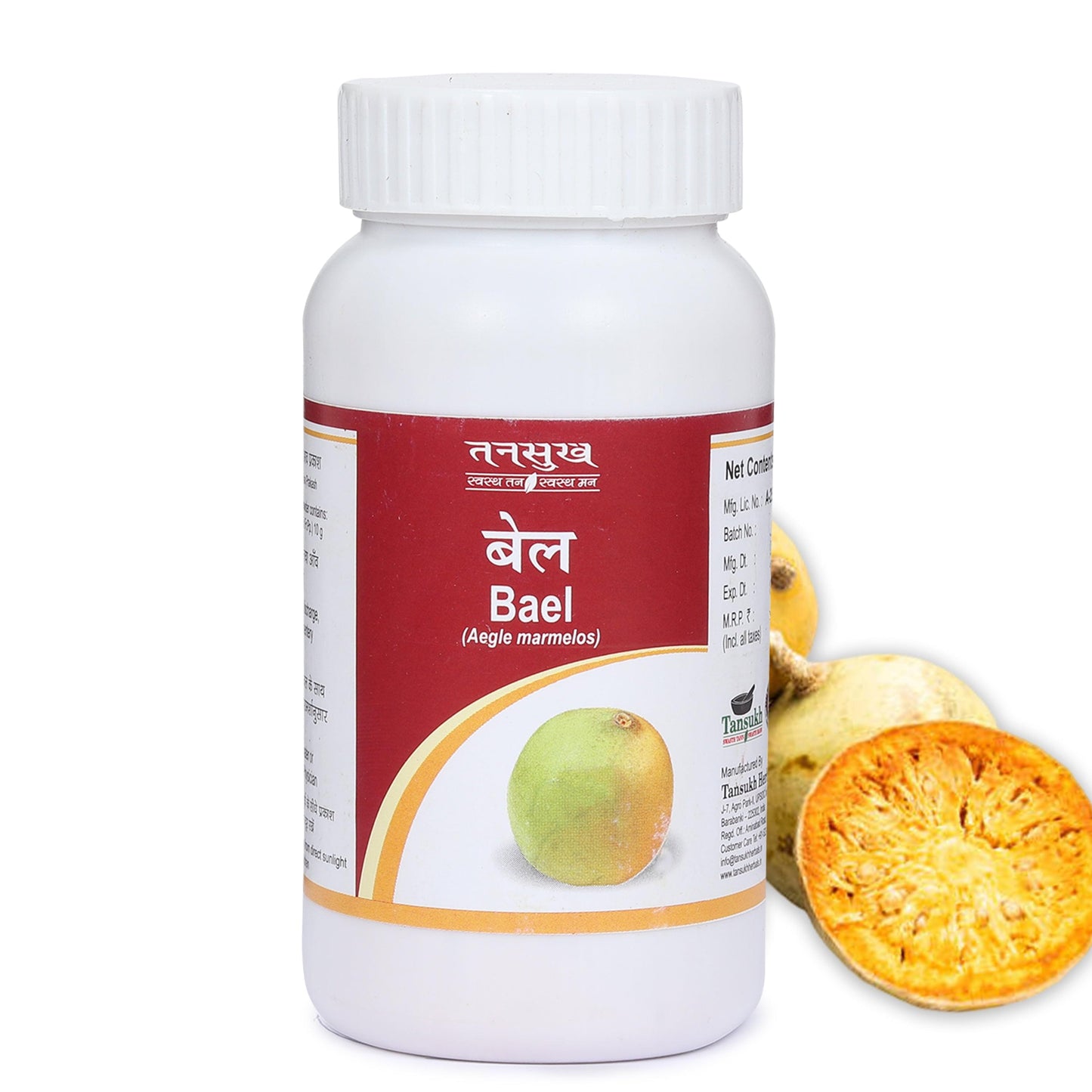 Tansukh Bael Churna, Bael Fruit Powder is An Ayurvedic Medicine and Has Zero Side Effect as it is Naturally found Fruit . It contains Pure Bael Powder which is Useful in mucus discharge, Diarrhoea any Dysentery and other Stomach Related Problems.

Bael fruit powder
Bael/Bilvam/Bilva or Wood apple, or Bengal quince is cultivated in Thailand, Srilanka, and Malaysia. Bael botanical name is Aegle marmelos. Bael is a medium-sized tree, Bael is known for its amazing medicinal, religious, and spiritual significance. Bael leaves and fruits are also offered to Lord Shiva. Bael Fruit is not so good looking fruit however it's loaded and packed with essential nutrients. Bael fruit is sweet in taste and aromatic. Tansukh bael churna or Bael churna is made from fresh ripe Bael fruit. It's made from fruit directly no preservatives added it is natural and safe.
This Bael powder is rich in
Vitamins: This has vitamins like Beta Carotene, Vitamin C, and Vitamin B-complex
Proteins: These are rich in protein
Minerals: This is power packed with minerals like Calcium, Potassium, zinc, magnesium, copper, and Iron
Dietary Fibers: This Bael fruit powder has dietary fibers as well
Fats: This has essential fats and good fats.
Storage
Store at room temperature
Close the lid of the bottle tightly after using
Keep Jar away from sunlight
Ensure you store the bottle away from children 
Dosage
You can take Bael fruit powder to boost your energy.
Consume 2 to 3 tablespoons of powder with a glass of water daily.
Also, you can use it once or twice daily as per your requirements.
Shelf life
Where can you buy Bael fruit powder/ Belgiri churna?
There are two options available to buy this powder. One is you can get it from online shopping sites here itself on our website or  Flipkart and Amazon. Another option is you can get it from offline local stores or any nearest Ayurvedic store. All our products are safe and 100% original.