MRP ()
Regular price
Sale price
₹ 58.04
Unit price
per
Sale
Sold out
Therapeutic Uses (Benefits)

View full details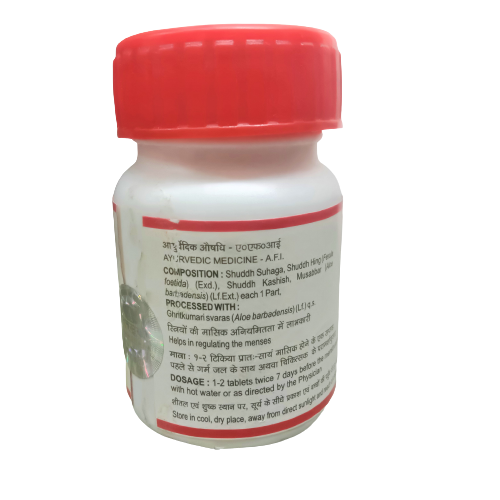 Rajahpravartini Vati is a renowned Ayurvedic formulation designed to regulate and support healthy menstrual cycles. Crafted with a combination of potent herbal ingredients, this natural supplement offers a holistic approach to women's reproductive health. With its time-tested formula, Rajahpravartini Vati aims to address menstrual irregularities and promote overall well-being.
Uses and Benefits:
Regulates Menstrual Cycles:

 

Rajahpravartini Vati is specifically formulated to help regulate and normalize menstrual cycles, ensuring a balanced and healthy flow.
Balances Hormones:

 

The powerful herbs in this Vati work synergistically to support hormone balance, which can help alleviate common menstrual discomforts.
Supports Reproductive Health:

 

By promoting a healthy menstrual flow, Rajahpravartini Vati helps maintain optimal reproductive health in women.
Relieves Menstrual Symptoms:

 

This Ayurvedic supplement may help reduce symptoms such as cramps, bloating, mood swings, and fatigue associated with menstrual cycles.
Promotes Overall Well-being:

 

Apart from its menstrual benefits, Rajahpravartini Vati supports overall physical and emotional well-being, promoting a healthy and active lifestyle.
Ingredients:
Book Reference – A.F.I.
Compostion: Shuddh Suhaga, Shuddh Hing (Ferula Foetida)(Exd.), Shuddh Kashish, Musabbar (Aloe barbadensis)(Lf.Ext.) each 1Part
Processed with: Ghritkumari Swaras (Aloe Barbadensis(Lf.)q.s.
Rajahpravartini Vati contains a blend of carefully selected natural ingredients, including:
Dashamoola (a combination of ten potent herbs)
Shuddha Guggulu (Purified Commiphora mukul)
Loha Bhasma (Iron calx)
Triphala (Amla, Haritaki, Bibhitaki)
Shilajit (Mineral pitch)
Vidanga (Embelia ribes)
Devadaru (Cedrus deodara)
Shunti (Zingiber officinale)
Maricha (Piper nigrum)
Pippali (Piper longum)
and other beneficial herbs.
Storage:
Store Rajahpravartini Vati in a cool, dry place, away from direct sunlight and moisture. Keep it out of reach of children.
Dosage:
1 or 2 tablets twice seven days before the menstruation with Hot Water or directed by Ayurvedacharya or a Physician.
Shelf Life:
The shelf life of Rajahpravartini Vati is usually mentioned on the packaging. However, it is generally advised to use the product within five years of manufacture for optimal effectiveness.
Safety Information:
This product is solely for adult use and is not recommended for children.
Consult your healthcare provider before using if you're pregnant or nursing, or taking this supplement.
Individuals with known medical conditions or those taking medications should seek medical advice before using Rajahpravartini Vati.
Always follow the dosage recommended and do not exceed the prescribed limits.
Where can you buy
Rajahpravartini Vati's price is quite reasonable. You can purchase Rajahpravartini Vati online here. The product is available on retail sites like Amazon, Flipkart, and 1mg. It would help if you visited your nearest Ayurvedic store to buy it over the counter.
Amazon , 
Flipkart , 
TATA 1Mg