MRP ()
Regular price
₹ 62.50
Sale price
₹ 71.43
Unit price
per
Sale
Sold out
Therapeutic Uses (Benefits)

View full details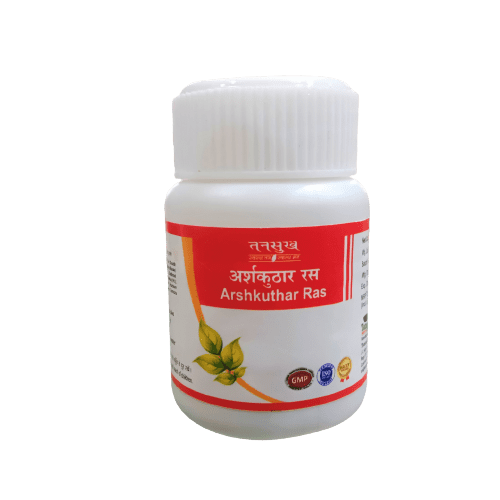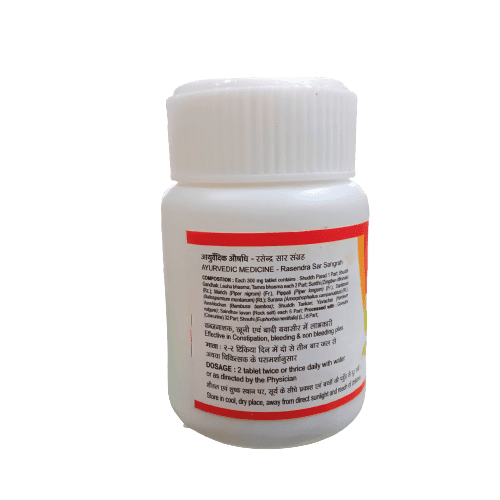 Arshkuthar Ras is a traditional Ayurvedic formulation designed to relieve haemorrhoids (piles) and related symptoms effectively. It is carefully crafted using a blend of natural ingredients known for their therapeutic properties. Arshkuthar Ras is a time-tested remedy to alleviate discomfort, reduce inflammation, and promote rectal health.
Benefits:
Hemorrhoid Relief:

 

Arshkuthar Ras is specifically formulated to relieve the symptoms associated with haemorrhoids. It helps reduce pain, itching, swelling, and discomfort caused by piles.
Anti-inflammatory Action:

 

The powerful ingredients in Arshkuthar Ras Anti-inflammatory properties can reduce inflammation and swelling in the rectal area, providing soothing relief.
Promotes Rectal Health:

 

Arshkuthar Ras can help promote rectal health by improving blood circulation, strengthening the veins, and reducing the risk of recurring haemorrhoids.
Arshkuthar Ras Uses In Hindi (अर्शकुठार रस का उपयोग हिंदी में):
हेमोराइड्स के लिए राहत:

 

अर्शकुठार रस विशेष रूप से हेमोराइड्स के लक्षणों से राहत प्रदान करने के लिए तैयार किया जाता है। इसका उपयोग दर्द, खुजली, सूजन और पाइल्स के कारण होने वाली असुविधा को कम करने में मदद करता है।
प्रोटेक्ट और ठीक करें:

 

अर्शकुठार रस के निरंतर उपयोग से आप प्रोटेक्ट कर सकते हैं और पाइल्स को ठीक कर सकते हैं। यह रक्त संचार को बेहतर बनाता है, नसों को मजबूत करता है और पुनरावर्ती हेमोराइड्स के जोखिम को कम करता है।
शोधित करें:

 

अर्शकुठार रस में प्रयोग किए गए जड़ी बूटियों और खनिजों में एंटी-इंफ्लेमेटरी गुण पाए जाते हैं, जो गुदा क्षेत्र में सूजन और सूजन को कम करने में मदद कर सकते हैं।
सुरक्षित उपयोग:

 

अर्शकुठार रस को अच्छी तरह से उपयोग करने के लिए उपयोगकर्ता को सलाह दी जाती है। विशेषज्ञ चिकित्सक या आयुर्वेदिक प्रैक्टीशनर से परामर्श लेना सलाहकार हो सकता है।
Arshkuthar Ras Benefits In Hindi (अर्शकुठार रस के लाभ हिंदी में):
पाइल्स के लिए राहत:

 

अर्शकुठार रस पाइल्स (हेमोराइड्स) से पीड़ित लोगों को आराम प्रदान करता है। यह दर्द, खुजली, सूजन और पाइल्स के कारण होने वाली असुविधाओं को कम करने में मदद करता है।
शोधित करें:

 

अर्शकुठार रस में प्रयोग किए गए प्राकृतिक तत्वों की मदद से सूजन और सूजन को कम करने में मदद मिलती है। यह आपको आराम प्रदान करता है और पाइल्स की स्थिति को सुधारने में मदद करता है।
रेक्टल स्वास्थ्य को प्रोत्साहित करें:

 

अर्शकुठार रस का नियमित उपयोग आपके रेक्टल स्वास्थ्य को सुधारने में मदद कर सकता है। यह रक्त संचार में सुधार कर, नसों को मजबूत करके और पुनरावर्ती पाइल्स के जोखिम को कम करके आपके गुदा क्षेत्र को स्वस्थ रखने में मदद करता है।
संघटकों की मदद से:

 

अर्शकुठार रस में प्रयुक्त शक्तिशाली संघटकों का उपयोग खुजली, सूजन और दर्द को कम करने में मदद करता है। यह आपके गुदा क्षेत्र की सूजन को श्रिंक करने और रक्तस्राव को कम करने में मदद करता है।
Ingredients:
Reference Book - Rasendra Sar Sangrah
Composition: Each 300mg tablet contains:
Shuddh Parad 1 Part, Shuddh Gandhak; Lauha bhasma; Tamra bhasma each 2 part; Sunthi (Zingiber offinale)(Rz); Marich (Piper nigrum)(Fr.), Pipali (Piper longum)(Fr.), Dantimool (Baliospermum montanum)(Rt.); Surana (Amorphophallus campanulatus)(Rt.); Vanshlochan (Bambusa bambos); Shuddh Tankan; Yavachar (Hordeum vulgare); Saindhav lavan (Rock salt) each 5 Part; Procrssed with: Gomutra (Cowurine) 32 Part; Shnuhi (Euphorbia nenifolia)(L.)8 Part
Arshkuthar Ras is made from a combination of carefully selected herbs and minerals, including:
Haritaki (Terminalia chebula):

 

Known for its mild laxative and digestive properties, Haritaki helps relieve constipation and promote healthy bowel movements.
Triphala:

 

This blend of three fruits, namely Amalaki (Emblica officinalis), Bibhitaki (Terminalia bellirica), and Haritaki (Terminalia chebula), is rich in antioxidants and has a mild laxative effect, aiding in smooth bowel movements.
Suddha Tankana (Purified Borax):

 

Tankana has antimicrobial properties and is believed to help reduce itching, swelling, and haemorrhoid pain.
Nagkesar (Mesua ferrea):

 

Nagkesar possesses astringent properties that can help shrink swollen blood vessels and reduce bleeding.
Suddha Gandhaka (Purified Sulphur):

 

Gandhaka has antiseptic properties and is known to promote wound healing. It aids in reducing inflammation and preventing infection in the rectal area.
Storage:
Store Arshkuthar Ras in a cool, dry place away from direct sunlight and reach of children.
Dosage:
Take two tablets twice or thrice daily with water or as directed by Ayurvedacharya or a Physician. 
Shelf Life:
The shelf life of Arshkuthar Ras is mentioned on the packaging. Generally, it has a shelf life of 5 years from the date of manufacture.
Safety Information:
Read the label carefully before use
Store in a cool place and dry place, Away from direct sunlight
Keep out of the reach of children
Do not exceed the recommended dose
Where can you buy it:
Arshkuthar Ras's price is quite reasonable. You can purchase Arshkuthar Ras online here. The product is available on retail sites like Amazon, Flipkart, and 1mg. It would help if you visited your nearest Ayurvedic store to buy it over the counter.